ROLLS-ROYCE SAYS ONE PART CAUSED QANTAS A380 BLOW-OUT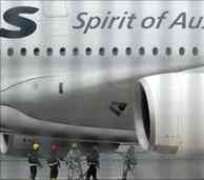 The engine broke apart on a Qantas A380 aircraft on 4 November
Rolls-Royce has said that a mid-air engine explosion during an A380 super-jumbo jet flight to Australia resulted from a single faulty component.
Rolls said it was correcting the fault, which is specific to its Trent 900 engine model and is not an issue on other engines.
The statement helped allay investors' concerns, with Rolls-Royce shares up by more than 3% in morning trade.
But Rolls added that the problems were set to hit profit growth this year.
Key findings
Australian airline Qantas grounded its fleet of six A380s after an engine broke apart on a flight to Australia on 4 November.
The plane was forced to make an emergency landing in Singapore, and the incident forced all A380 operators to check their planes.
Rolls-Royce said its investigations had led "to two key conclusions".
First, that only the Trent 900 was affected; second, that the engine failure "was confined to a specific component" which led to an oil fire and loss of turbine pressure.
This event… will have an impact on the group's financial performance this year'
Sir John Rose
Rolls-Royce chief executive
Rolls-Royce said that corrective measures would "enable our customers progressively to bring the whole fleet back into service".
Profits to slow
The company's shares fell sharply immediately after the Qantas engine incident, in part because of concerns about a lack of information from Rolls-Royce about the cause.
However, following the latest update from the company, its shares were up more than 3% in morning trading.
The increase came despite Rolls' chief executive, Sir John Rose, saying that the engine problems would "have an impact on the group's financial performance this year".
In July, the company indicated that underlying profit growth for the year would be about 4%-5%.
But this will now by "slightly lower than previously guided," Rolls-Royce said.
A380 delays?
Meanwhile, European planemaker Airbus, which makes the A380, said that deliveries of the aircraft may be affected by the engine problems.
"I would not rule out some impact on the delivery schedule," chief executive Tom Enders said. "I don't know how severe that would be."
But he added that he did not expect the engine incident to damage the reputation of the world's largest passenger aircraft.
"It is not an incident that makes us or airlines happy but I am absolutely sure, given the positive reception received so far from airlines and passengers… that the reputation of the aircraft will remain untarnished and increase in years ahead," Mr Enders said.
Qantas' A380s are still grounded, but the airline said in a statement said that it hoped "it will be days rather than weeks before we are able to return the aircraft to service".
The carrier added: "It will take several days for Rolls-Royce to identify relevant engines as far as this modification is concerned and to source the necessary components."