When is love enough to make a commitment?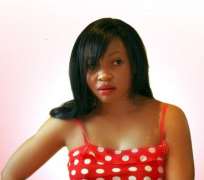 Samson has always loved the good things of life. When he was a boy, one could tell that he was on his way to becoming the master of his game. He graduated when his mates did and immediately got a job in a reputable bank. Not too long, he went back to school for his masters and doctorate. These degrees gave him added advantage over his peers, so he got promoted and headed a branch of the bank in a short time.
It was time for him to marry, so he decided to settle for nothing less. Nnenna is an American citizen, who also worked in a bank. He planned that both of them should resign and relocate to the States for their white wedding and a beautiful life.
Nnenna left for the States to hasten things for both of them or so she said. Before that they traveled home to see her family for the marriage introduction. Samson on the other hand was busy getting set for his resignation. He sold all he had, sent the money to Nnenna to get a place for them in the States. He was advised against leaving his job permanently by his friends, but he did not listen and finally he relocated to the States.
He got to America to meet the biggest shock of his life…
Paul Play
Trust comes with time
Paul Play, Musician
Relationship has to be about love and commitment. Commitment comes with time. It is that time you take in developing trust between the two of you. The time to know your partner's strength and weaknesses.
I don't subscribe to people who meet themselves today and are married in three or six months. You don't know your partner, whatever you get you deserve. I'm not saying problems don't come up in marriages of twenty years and above, but you already know what you are expecting from your partner. The person you just met you do not even know him or her. It takes time to say l know this person or that person. If you don't know the person well enough, why go into that 'business of forever' with the person?
For a relationship to work it must take time to grow, there must be commitment which also comes with time and trust. I feel for the young man, but I am sure he has learnt his lessons.
Benita Nzeribe
Personal belief
Benita Nzeribe, Actress
Love and relationships are personal, because a certain style worked for Mr. A doesn't mean it will work for Mr. B. I think we should listen to our hearts when we are about going into relationships or affairs that have to do with the heart. We should also talk to 'the God' we serve about it. What you believe in will work for you.
Nonso Odogwu
Love Forgives
Nonso Odogwu, Actor
Love is a sweet feeling; we don't even practice it in this world. Love is in-fact God, it is giving and forgiving and of-course
trust must be the binder. I love listening to both sides of stories before concluding. The man in this story told us his side; I wish the woman in question was here to defend herself. There are always two sides to a coin. If he ever loved the woman, he should forgive her.
DJ Jimmy Jatt
Fifty percent commitment is ok
Jimmy Jatt, Musician/ Dj
I don't think time matters, it is relative. How well you know the person is very vital to commitment and trust. In today's world, marriage is a contract; there should be trust to make it worth while. If you can get at least fifty percent of someone's love, I think it's fair. You can work on that and get the best out of it. You never can tell you can turn fifty to a hundred percent in the end.
Alex Lopez
The victim calls it quit
Alex Lopex, Actress
The man in the story is very stupid. How can you do that for a woman you are not even married to? Life is fair; it is what you make of it. Love is also what you make of it. So, if you have a loved one, a fiancée or fiancé who cheats on you all in the name of love or beats you or she claims she is seeing only you, whereas there are other guys. Then love is enough when the victim eyes gets open and he or she calls it quit. It is enough when you have dated him for twelve years and you notice he doesn't intend to marry you. And you walk away.

Alex Lopez

Paul Play

Nonso Odogwu, Actor

Jimmy Jatt