JANG ADMITS FINANCIAL WEAKNESS AFTER CRISES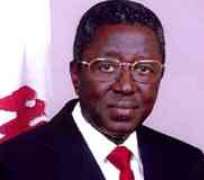 Governor Jonah Jang
Governor Jonah Jang of Plateau State yesterday said the financial strength of the state had been weakened by the recurrent crises, saying despite that his administration had struggled to avoid distraction.
Jang spoke at his official declaration for a second tenure in office at the Mangu Local Government Area mini stadium, saying in spite of the crises, the state had made modest achievements.
'The challenge of peace and security which has been with us for over a decade reared its ugly head over a year ago. But we have made modest achievements as reflected in the commissioning of projects,' the governor said. On his re-election bid, Jang said, 'In the life of a man, there comes the moment of decision, a moment to respond to the challenges of the time, and for me, one of such moments has come.'
He added, 'I, Jonah David Jang, Governor of Plateau State, hereby declare my intention to contest the governorship of Plateau State for the second term.'
Highlights of the event which attracted hundreds of supporters from across the state included goodwill messages from Senate President David Mark who was represented by Senator Gyang Dantong, Speaker, Plateau State House of Assembly, Istifanus Mwansat and former Minister of Information and Communications and one time presidential aspirant, Professor Jerry Gana.
Others include the Minister for Women Affairs Josephine Anenih, Minister of State for Commerce and Industry Ms. Josephine Tapgun, former deputy Senate president Senator John Wash Pam as well as Jack Tilley Gyado among others.