MY MUSIC INSPIRES – BLESSING UGBE OKORJI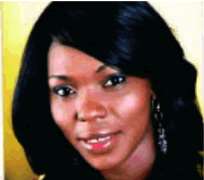 Okorji
Blessing Ugbe Okorji, the UK-based Nigerian gospel artiste, has a rare personality that makes her noticeable even in a crowd. A Computer Science graduate of Metropolitan University, London, the Ahoada, Rivers-born gospel artiste is slim and beautiful.
She is presently in Nigeria to promote her song album entitled: 'Whole world in his hands, which has nine tracks. She had earlier released a single of same title, which now enjoys airplay in most radio stations in the country.
The young, talented and hard-working mother of two said she uses gospel music to propagate the virtues of Jesus Christ. 'Wale Owoade produced the album.
According to her, she started developing interest in music as a young child who was always sitting beside her grandfather listening and learning his songs. There and then, she picked up interest in music and ever since then, it was no going back. The talent blossomed when she became a chorister in the church.
Although a gospel artiste, Blessing has several songs in her album- melody, soulful jazzy with traces of Rhythm & Blues (R & B) and Reggae. Her words: 'I had to come down to Nigeria to do the album because I wanted that African feel in my music and want to carry everyone along.'
Okorji's music is not about preaching but encouraging people. 'I have gone through so many things in my life and this is the only way I can express it to the people that whatever they are going through, they can always overcome it. Though she doesn't play any instrument, she emphasized that when God gives one a special gift, one just needs to polish it, which is what she is doing.
On her singing prowess, she said: 'I use to sing with some ladies as a group but it didn't work out. So, I decided to go solo.'
On the challenges,
Blessing said it was difficult combining music and raising her children but that God blessed her with a wonderful mother who supported her by taking care of the kids, hence she could to go out and play.
She also likes to exchange ideas with other artistes, and this made it easier to overcome everything that comes her way coupled with prayers and God's guidance.
On Nigerian music industry, she said the industry has fared well, having produced the likes of 2Face Idibia and P-Square whose musical works are doing well in the United Kingdom and United States. Nigerian artistes, according to her, are really blessed and are versatile when it comes to singing in pidgin and other Nigerian languages.
Describing her mother as her role model, the gospel singer said her mum sings but not professionally. She is always there for her in every area of her life while others like Yolanda Adams, Cece Winas and Bebe Winas have influenced her musical career.
While commending other Nigerian gospel artistes such as Midnight Crew, Infinity, Rooftop MC amongst others, Blessing said she intends to play more of edifying music that can touch more lives. She recently completed a seven-month tour of Louisiana, USA as well as Trinidad and Tobago and she would be visiting Uganda next month to perform. She also plans to visit South Africa, Ghana and Kenya, promoting her music and spreading the gospel around Africa.
From a family blessed with actors, models and singers, she plans to do a collabo with other artistes and give back to the society. Music might be her first love, Blessing is also a sports lover she runs a child care agency in London, giving attention and touch to kindergarten and crèche pupils by developing them emotionally. She has also produced a video of the album.