2011 PRESIDENCY, CONFUSION OVER CONSENSUS CANDIDATE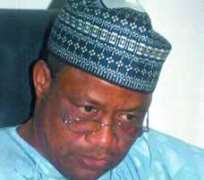 IBB
This may sound good to the ears of the President Goodluck Jonathan /Sambo campaign organization as the plan by the Northern Political Leaders Forum (NPLF) of the Peoples Democratic Party (PDP) to handpick a consensus presidential candidate from its four top contenders from the North may have been rested after all.
A source told Daily Sun that the four candidates might have opted to go to the PDP primaries, expected to hold in January without a consensus.
This is as a result of sharp disagreements over the choice of one of the candidates, which was not acceptable to the other three aspirants in the consensus deal.
Former Vice President Atiku Abubakar and Governor of Kwara State, Dr Bukola Saraki, according to the source, emerged the two top contenders for the group's endorsement, but the screening committee eventually settled for Atiku. According to the source, the choice of Saraki was jettisoned because of the perceived 'baggage' he is carrying from his business, especially in the banking sector. It is feared that this would, again rear its ugly head and frustrate the North's chances at the polls.
All these, added to the setback coming from his home front in Kwara, were said to have given NPLF the impression that Bukola would be difficult to sell to the electorate and compelled to thereafter opt for Atiku, who according to the source, was favoured because he had been a Vice President and could easily be presented to the electorate as someone with the knowledge of the workings of government. But when the choice of Atiku filtered to the aspirants before they were invited for a meeting with the selection committee, a sharp disagreement followed which resulted in a boycott of the talks, leaving the deal in a limbo.
Some of the aspirants in the consensus arrangement like General Ibrahim Babangida, who believe they have the required number of delegates to win the primaries, felt the selection process was not thorough enough. This caused their interest in the arrangement to wane. A source with knowledge of the dealings of the northern political elders told Daily Sun last weekend that the group has settled for the candidate chosen by the screening committee headed by Mallam Adamu Ciroma and the candidate was to have been formally named last week
The Mallam Ciroma-led committee had continually shifted the date for the announcement of the north's consensus candidate until last weekend when the disagreement peaked, fueling speculations that a consensus candidate may never emerge. The NPLF screened four presidential aspirants in its search for an acceptable northern candidate for the North. The candidates are Babangida, Atiku, General Aliyu Gusau and Saraki.