SOME STATES DON'T HAVE 50 DOCTORS TO 1.5MILLION PEOPLE —NMA PRESIDENT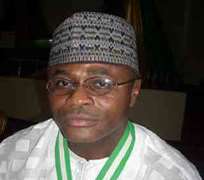 President, Nigeria Medical Association, Dr. Omede Idris
Increasing industrial actions across the nation especially by medical doctors have raised concern regarding essential service delivery and sincerity of government in addressing vexed issues. In this interview with Ezra Ijioma, the President of Nigeria Medical Association, Dr. Omede Idris, offers suggestions on how to resolve the current strike by resident doctors in Lagos State.
Why do medical doctors go on strike regularly?
Though strikes have been sporadic, they are heralded by things that are beyond the scope of the practitioners. As a bigger body, the Nigeria Medical Association (NMA), has not called out doctors on strike for some time now. The last time NMA went on strike was in 2001 and that's about 10 years ago. The recent strikes were embarked upon by our affiliates. We believe very much that dialogue and understanding, and government being responsive to the vexed issues, will solve our problems especially in a democratic dispensation where government is expected to listen to people. Most issues that herald strike had to do with even the beneficiaries of health services. The strikes that doctors embark on are borne out of the need to improve health services. It is painful when you are trained to render a particular service and you find yourself unable to do it because you are handicapped by lack of equipment, incentives and the rest.
This leaves the doctors unfulfilled and dejected. Salary is only part of the reasons doctors go on strike. Salaries become critical when you look at the society where political appointees are well-paid but not the civil servants and professionals, and when you talk about it you are told that there is no money
but there is money to pay the political appointees. But if everyone is in the same kettle, it would be easier to understand.
But doctors are in charge of the decision-making bodies in the health system, why are they complaining about the system?
No, there is politicisation of so many things and poor funding. Politicisation here means that yes, you are in charge in quote, but there are certain instructions that are given to you by someone superior to you. Sometimes you are in charge and could have drawn up your plans but the resources are just not there for you to deliver those things that you are supposed to do. You find out that budgetary allocations to health do not meet global standards and are grossly inadequate.
But since we have political influence and poor funding across the nation's socio-political strata, don't you think this is not a peculiar problem of doctors?
Yes, I agree it is not peculiar with doctors. But you must differentiate doctors from other professionals. In other fields you can manage. In other fields you have alternatives and substitutes. For example, in the power sector, you can use
generators and in the water sector, people can drill boreholes if the public water system fails. But we know in health, there is no alternative, you must use the public health system or the private one. Those who are not financially buoyant patronise the public health system and that is why it should be
well-funded. You must realise that over 70 per cent of Nigerians live in rural areas and they are poor. The only health system that services them is the public health system. So there is a large burden on public health system. Health is the only
service where the majority of the providers are within the government sector and that is why this social responsibility makes it like health is a covenant between the government and the people. Beyond the budgetary allocations, if we have a well-structured health insurance scheme in place, it will also help a lot.
Why has NMA not resolved the doctors' strike in Lagos?
Well, the strike in Lagos is unfortunate like strike anywhere. Like I said, strike is really not what we want to do as doctors. Most times it becomes a kind of decision we take as a last resort when we try to open doors of dialogue and discussion but they are seen as disturbing the system. Remember that the national body asked all the affiliates of the body in early April to sheathe their swords and go back to work while it promised to take up the issues prompting the strike. The core issue at that time, which still remains, is the consolidated medical salary structure. This was a structure that came as a result of an accord reached between the NMA and the Federal Government and while we were in that negotiation, our position had been because of the uniformity of service that doctors render to Nigerians at local, state or federal level, they should be paid same salary. A doctor in a local government should be paid same salary as one at a federal hospital because at that level, service provided is similar and your callings are the same. Knowing full well that part of the reasons you see lopsidedness in the employment of health workers have been disparity in welfare and non-availability of basic equipment for practice.
Also, since majority of the population lives in the rural areas, you have more pressure on health services at the primary health care level than even at the tertiary level. And by the time you have this salary differential at the public health system, then the tendency is for health workers to migrate to the tertiary level and who is worse off for it? It is the local and state government health systems that will be worse for it and the people who are being served.
So when we asked the states to suspend their strikes so that we could take it up at the national level and we did all we could to reach all the state governors and asked them to open doors of negotiation to our members there, open doors to us to talk over this issue. Now don't forget that the consolidated medical salary structure came along with the consolidated health salary structure and there is just no way one can be implemented and the other left out. We do know very well that some states have very, very low number of doctors in their employment in relation to the population. With respect to Lagos State, while other states called off their strikes, there are other issues apart from salary. And the state government took them to court but the court threw the case out and told the state government to go back and settle the case.
What are some of the issues the doctors have with the Lagos State government?
Previously, some members were sacked for a strike that had been embarked upon in the past and to all intents and purposes, the Lagos State government has no justification for sacking those doctors. And two, they also complained about the government making deductions from their salaries in the form of dues that are paid but did not remit those dues back to the doctors' body. These are issues the doctors want ironed out, particularly reinstating their sacked colleagues.
So the Lagos State government deducted dues from doctors' salaries but failed to remit such dues to the appropriate body?
No, normally, the state deducts dues but these were not remitted.
Have you brought this issue to the notice of the state government?
Yes and to the best of my knowledge the Lagos State government has not gone into negotiation with the doctors. How do I get into Lagos State government? It has to start through an invitation or through an invitation of our branch there but if the state government is talking to the branch, it is as well talking to us.
We at the national level asked doctors to call off strike at states where they are talking more about salary. But like I said, Lagos has additional problems which are fuelling the strike but most people are talking more of salary issue.
Let's get something clear here. Did Lagos State fail to remit dues deducted from doctors' salaries?
Yes, states deduct money from doctors' salaries which are paid into the account of the doctors' guild but the Lagos State government deducted such money and refused to pay it to the doctors' guild in the state.
Have you raised the issue with the government?
These are the issues causing the strike and the government has not called them to the negotiating table. And we read in the papers that the state government
has not made any commitment but it is asking them to call off the strike.
What has NMA, at the national level done to solve the problem?
I think if the Lagos State government is very proactive, it can solve that problem. I don't think that it is an issue beyond the government. They are just very clear issues that they can call the doctors and discuss sincerely. The issue of remuneration, I don't think it is beyond the scope of Lagos State. With the issue of the sacked doctors, I believe that they had a mandate which they executed and are being punished for it. These are not issues that you can sweep under the carpet because they will keep coming back. It is not an issue of defeating Lagos State. It is an issue of no victor, no vanquished. Something must have gone wrong somewhere and I believe if the court had seen any merit in the demand of the state government, it would have said so. I think it was a subtle way of telling the government to go and settle this thing and not embarrass the system. Governor Raji Fashola has done well and I think this is another area that he can excel.
How will you describe the state of health system in the country?
In fact, one feels somehow when states have not been able to meet primary and secondary health needs and they are trying to go into tertiary health services.
Before now we have complained that most state general hospitals are not better than primary health care centres because the manpower is not there. We have states in this country that do not have up to 50 doctors in their employment.
And there is no state in this country with less than 1.5 million people in population. At the same time, such states are going into highfalutin health projects to have a tertiary hospital, a teaching hospital, what do you expect there? You have not been able to cater for the minimal members of staff that you have with
the under-equipped hospitals and you want to offer tertiary services?
Is it not doctors that give advice and agitate for such projects?
No, how many doctors do you have in decision-making bodies across the states? In most cases, it is the politicians that are there and they are more interested in gigantic projects than service delivery. They prefer gigantic projects that may not benefit the generality of their population.