I DATED TRICIA'S EX, I NEVER SNATCHED HER BOYFRIEND –OBY EDOZIE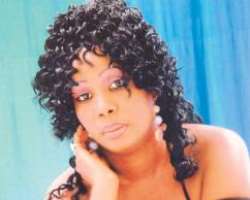 What's the secret of your long stay in the movie industry?
I would say it is God. I am really not everywhere. That is not what matters. It is the type of movies that you do that matters. I have done very nice movies especially the ones I produced. One of them is 'The Earth'.
Have you dumped acting?
No. I even played the lead role in the movie. Some other known artistes, including Emeka Enyiocha, Bimbo Akintola and other artistes featured.
What inspired you to become a producer?
I just realised I was gifted. I had a story on my head and I decided to write it down and it turned out to be very nice. I decided to produce it myself. But don't forget that I still work for other producers as well.
Was it not because the big money is in movie production?
Not really. In fact, I even ran at a loss in the first movie I produced. Like I said, I found out I was gifted and that was why I went into movie productions. It is not going to stop me from doing other people's works. I am still an actress.
How did you get into this industry?
I came into Nollywood in 1997. I was a student at the Lagos State University. Sola Fosudo was a lecturer there then. My club in school was doing something and I decided to invite him. I went to him and we had a good rapport. That was when I told him I was interested in acting. He told me there was something called auditioning. I hadn't heard of it before. He gave me a note to Zeb Ejiro, a movie producer, and I went for an audition for his movie. Sixteen people were chosen for the movie and my name happened to be the second one on the list. That was how I started.
Are you saying it has been rosy for you since you joined the industry?
Let me tell you, there were no GSM phones then. I trekked and I trekked around Lagos for auditions. These days, a young girl would wake up and would want to be a star just like that without working for it.
Anything that is worth doing is worth doing well. These young ones should not be in a hurry to get to the top. You should work for it by going for auditions. When they pair you with a star actress and you perform very well, before you know it, you will be up there. You shouldn't be in a hurry.
Are you, for any reason, envious of some of the actresses in your industry?
I am not envious of anybody because I am very okay where I am. Nobody is preventimg me from getting jobs. I am very much okay.
Has your being okay translated into a fat bank account?
If I don't have money, I don't think I would have been able to produce a movie. But you cannot compare what they pay overseas with what we are paid here. Over there, you could do one movie and buy a house with what you are paid.
Our fee here is still poor but it is better than what it used to be. Technically, we are getting better as well. We are moving up. With time, everything will be okay.
Can you remember what you pocketed as a young actress?
I was paid 10,000 Naira. I wasn't even bothered about the money. I just wanted to act. I have always had it in my mind that when you are doing something, you shouldn't always look at the monetary aspect of it. It was the same producer that paid me this 10,000 Naira that later paid me 50,000 Naira, subsequently he gave me a cheque.
How much do you pocket these days?
I can't say. But it is okay. At least it is better than what I used to take before.
How many movies have you featured in?
I cannot count them. I have a basket filled up with my movies. There are some I don't even have anymore.
Which of them brought you to the limelight?
I think it was Abuja Connection. I played the role of a society big girl in the movie.
How much of you was in that movie?
None of me was in that movie. I know people see actressees as being very wild and all that. I am not trying to blow my trumpet but Oby is a good babe. I am a home girl. When I am not working I will be at home. I am not a virgin, I am not a saint but I am a good girl.
Are you saying that you are the kind of person a guy can take home to mama?.
Exactly. I am very emotional and very romantic but most people don't see it. It is only when you come close to me that you will notice that and it is only my man that can testify to that.
And who is 'my man'?
He is somebody. I don't believe in flaunting things. I am very happy in this relationship. I don't want to flaunt it, anyway. When I send out invitation cards by God's grace, then you will know who he is. Let us save it for now.
You seem to have a lot of scandals following you; how have you been able to handle them?
At times, I see some headlines and I want to go 'wacko'. There was this one that made me cry so much that my lawyer had to write to the magazine. They said I said Nigerian men were bad. I couldn't have said such. I mean, why would I say something like that when these people help me a lot.
I am into charity and I have an NGO. If I go to source for funds who will agree to help me if I call Nigerian men bad names? They would have their own opinion about me.
Back to your man, is he comfortable with your being an actress?
He is very comfortable.
Even with what we hear about actresses?
When he first met me, he didn't say anything. But when we got to know each other very well, he told me I was so different. You need to come close to somebody before you will know the kind of person she is.
Let me tell you, I don't double-date.When I am going out with a guy, I just give it my all.
Do you think he will stop you from being an actress?
I will be an actress till my last days. When I am old and shaking, there will still be roles for old women. I am going to be among those old women. Acting is till the end of the day for me. I don't think I would want to stop being an actress.
But your man should not be comfortable with the kind of love scenes you play.
I don't do raw love scenes. But he is okay with what I do. He watches my movies and he tells me that I didn't play the love scene well.
When you are in love with somebody, you carry the person along in whatever you do. I told him what we do is just acting and he believed me.
Did you ever think of marrying an actor?
Have I dated any actor? They are lovely guys and they are very cool. But we don't know what tomorrow will be. I don't know who I will get married to until that wedding day then you will know who Oby is marrying.
But your man is not an actor.
No he is not. The guy I am dating currently is not in my industry.
Did your parents support your going into acting?
Yes. My dad gave me his total support. He encouraged me. Thank God they supported me from the outset.
It seems you loved your father very much.
He was a wonderful man. In fact, I don't even believe he has passed on. All the things he never liked somebody doing, I still don't allow such things. He never liked people smoking, so I still insist that nobody should smoke in my house.
What is this fight we hear between you and Tricia over a guy that is abroad?
Do you mean Tricia Eseigbe, the presenter?
Yes.
I do not know any London-based guy that she dated. For two years now, we have not been communicating.
But we heard that you snatched her boyfriend...
I did not snatch her boyfriend. She dated a man, she had stopped dating the man for three years. I met the guy somehow and I dated the guy. The coast was clear. It was not as if she and the guy were dating and I moved in.
But we hear two of you were friends before then.
Yes. I dated her ex and she started painting me black and calling me names. She went as far as calling me a prostitute. But I don't care. I know who I am.
How did this whole saga start?
I travelled and I came back and somebody from one magazine called me and said Tricia said I was not a virgin.
Virgin? What brought about that? Are you a virgin?
I am not a virgin o. This virgin issue came about when somebody interviewed me and the whole interview was centred on men and all that. I asked the person if she didn't have any other serious thing to talk about other than men. In fact, in a passing statement, I told her I was a virgin so that we could move to another question.
The person interviewing me knew I couldn't have meant that. But she went ahead and used it as her headline.
I learnt Tricia walked into a party and saw the magazine with that headline and she started wagging her mouth. For God's sake, we all know that headlines could be sensational.
But we learnt that you said that because you were looking for cheap publicity.
That is outrageous! I have done more than enough in this industry. Many people want to interview me on a daily basis. I have passed the level of looking for publicity.
It is when you have an issue with a friend that you know if that person is actually a friend. Tricia is not a friend. She cannot stop me from progressing in life. I am done with explaining myself.
Are you still dating the guy in question?
For goodness' sake, I am not dating the guy. I dated her ex that she stopped dating for three years, why can't she be mature enough to move on. I told you this whole thing happened five years ago. We should think of progressing in life and not talking about a man or an issue that happened in the past.
I have outgrown all that. I have better things to talk about. I am done with this. We shouldn't go back to yesterday. I am thinking about tomorrow.
Don't you think all these scandals would stop you from getting jobs?
Jobs? I work all the time. I work for people and if at the end of the day I decide not to, then I work for myself. Don't forget that I am a producer.
Do you think you and Tricia will ever be friends again?
I don't know. It is only God that knows what tomorrow will be like. I have better issues and projects to handle.
What are these projects you keep talking about?
I am going into charity and I don't think I will want to flaunt that now. I am still doing the underground work.
Your colleagues are into music now, when are you going to the studio?
I have released mine. But it is going to be for my second movie. It is actually the sound track of that movie. Very soon, you will see it on air.
Looking back over the years, do you have any regret?
I don't. Being an actress is one of the best things that have happened to me. Initially when I was getting into this, somebody told me that I would not be respected. But that didn't deter me. I still went ahead and I am very glad that I did.
At times, I don't remember that I am an actress. I am always myself and I don't pretend. I am very natural and it doesn't have anything to do with being a star.
But some think you are very snobbish.
You are chatting with me in my house. Is there any display of snobbery here? I could be a parrot but that has to be with people that I know. You don't expect me to see somebody for the first time and I will start talking to the person immediately. I am not a snob.
So the stardom thing did not get to your head.
It did not. I don't smoke and I don't drink. I do not flaunt men either. In life, when you feel you have arrived, you can still come down. Humble yourself and the Lord will lift you up. I still feel I have not done anything. I am still starting.
How far do you want to get?
As far as God takes me. I cannot imagine it. Only time will tell.
Which actors do you admire in your industry?
Nkem Owoh is the first comedian to make me laugh and cry. The guy is so natural. I also love Joke Silva. She is a wonderful actress.
We hear that lesbianism is the in thing in Nollywood.
I have not heard of it. Nobody has approached me and I don't know anything about it o.
A lot of people get into your industry on a daily basis...
But you have to ask yourself how many of them make it to the top. Some of them come, do a couple of movies and then get out because they don't have the talent. The movie industry is meant for those who have talents and those who are gifted. If you enter by any other means, you will definitely get out somehow.