3RD ABUJA CARNIVAL 2007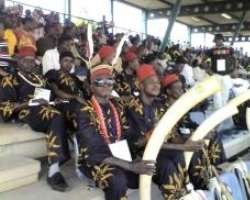 ABUJA CARNIVAL is a yearly event that showcases cultural displays, masquerade dance, durbar, boat cruise, etc. Each state in Nigeria sends their
contingents to represent them in various activities at the carnival. So, contingents come from the 36 states of Nigeria with different presentations that are aimed at showcasing the rich culture, values, tradition and history of their community and state, while trying to outdo themselves and find a way to win the hearts of guests who come from different parts of the world for this yearly festival.
Nigerians in diaspora also look forward to this yearly carnival, because they get to meet with friends, family members and also loved ones whom they have lost contact with. It also avails the returnees the opportunity of learning new things about their country, tradition and latest development in their community.
This year's edition which was tagged 3RD ABUJA CARNIVAL, was held some weeks back and was very colourful and also filled with excitement.
The four-day event kick started with arrival of guests and an opening ceremony at the Eagles Square, Abuja, and the Honourable Minister of Culture, Tourism and National Orientation Prince Adetokunbo Kayode gave his welcome address. This was followed immediately with FLOATING PARADE where each state contingent lined up in big motorcades with big banner showing their states, as they drove round the square.
The second day of the carnival was masquarade parade. This was where different masquarades dressed in very colourful costumes and different dances from all the 36 states of Nigeria, including the Federal Capital Territory Abuja made their presentation. Some masquarades that were ONLY seen in remote villages, except during festivities, came out to also display their dexterity to the delight of the audience.
The third day was Durbar presentation. This was specially created for the northern region contingents who rode on horses in a war-like setting, displaying
the rich colourful northern regalia. Niger State was joining the Durbar presentation for the first time and they gave a good account of themselves.
The fourth day was the BOAT CRUISE CARNIVAL. What Durbar presentation means for the northerners, is what Boat Cruise means for people living in the riverine areas like Cross River, Delta State, Rivers State, Akwa Ibom State, etc. Contingents adorned their boats with strippings, drapes and beautiful fabrics to show their historic and cultural inclination. For the third time in a roll, Rivers State emerged the best in the BOAT CRUISE CARNIVAL.
All in all, it was a wonderful time for everyone who was part of the carnival, and at the end of the fiesta, people were looking forward to the next edition come 2008.
More exclusive pictures in our photo gallery.