DAY I SPENT N375,000 ON BOOZE –OLU MAINTAIN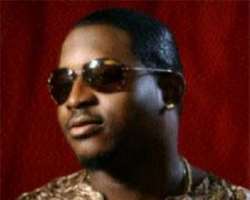 He wormed his way into the hearts of Nigerians with his smash hit entitled, Yahoozee. Olumide Edwards Adegbolu, popularly known as Olu Maintain by his fans, recalled with pains, a story in a soft-sell magazine some time ago that said that owing to hard times, he sold his car. Today, with a smile on his face, it is obvious that things have changed for the better.
As evidence of his new status, Olu pointed at his new wonder-on-wheels, a multi-million naira Chrysler car he just acquired, at the mechanics shop in Oregun, Lagos, where this interview took place.
Olu began his musical career with the defunct group, Maintain, the Afro hip-hop. After reading Accounting, at The Polytechnic, Ibadan, he got the backing of his father.
Coded slang Yahoozee
On the opening statement in my song, I can't tell you what the slang Karma Kazee on Kentro Level means. I can't even reveal it to my fans either. It's a mystery and the beauty of it is the secrecy. That secret value makes it attract attention and once I let the cat out of the bag, there is nothing else to expect. It is a mysterious term. I will keep people in suspense about it until my next album comes out.
Next album
I am coming out with a new album on February 14 ( lovers day) next year. The title is Tomato. We are shooting the video in South Africa and America in January. I am not sure if it is going to take the shape of an album yet but we are looking at doing a compilation with one or two other songs from me and a single from an artiste on my record label who is known as Crazy Bondo.
I am overwhelmed
The album was officially released May 17, 2007, but I recorded Yahoozee last year September. Every artiste dreams to make it big but one never knows when the breakthrough will come. But what one can do is just to pray to make it big. One can never know when the big break will come but everyone prays that when it comes, God will help you manage the fame that comes with it properly. If I had thought that Yahoozee will be this big, then I am not being sincere.
I am not here because I am the best but because I am blessed. I am just taking everything in its stride. I am taking my time to absorb the fame. Really, I am overwhelmed with the success and I am very grateful to God. By the grace of God, I hope there will be more of this breakthrough to come.
Inspiration
It was inspired just like any other song. I went to the studio with my guys along with Puffy T who produced the music. For about 30 minutes, the window of inspiration just opened and the lyrics began to come together and before we knew what was happening, we had a song. We were listening to it from September through November before we began to push it out.
Coping with fame
One has to be extremely sensitive to one's environment. Success has many relatives as well as enemies. A lot of people will hate, envy and pretend to love. It is all part of life, one only needs to strike a balance. I think I am doing averagely well in this area and I am scandal-free. One just has to learn to manage everything properly because nobody is perfect. I am liable to make mistakes just like every other human being.
High expectations from next album
I am not afraid that my next song won't be better than Yahoozee. If you recall the history of Maintain, you would recall that it is one of the few groups which have turned out hits after hits from 2000 to 2005 including Ni bo la wa gbe lo (2000), Halo Halo (2001), I Catch Cold (2002), Maintain in India (2003), Looking for a Wifey, (2004) and in 2005, we split up. Later, I went back to the studio and I came up with Yahozee in 2007. So, it is not a fluke and all is coming from the same camp. Without blowing my trumpet, I think God has given me the gift to connect with the people and to be able to predict to a large extent, what might likely come after. Until God says it is time for me to pack my bags and leave, I will continue to produce hits by His Grace. I have been doing this close to a decade now. So, I am not a starter.
Secrets of hit songs
Music is sound that needs to connect with the society and the society is made up of people living in a particular environment. If one's music does not link up people with the realities of their environment, then you can't have a total package. If one sings a song that is completely alien to the people, then nobody will patronise one's CD. It is one's obligation as a musician to connect with one's environment. In Nigeria, it is about politics, women, wine, wealth, dance etc, that appeals to the people. A couple of year's ago, Makossa was the dance in vogue.
Taking Yahoozee to the global stage
Largely, the reason why Yahoozee is very successful is because of the dance. By January, we are having an all-sponsored trip to America to shoot another video of Yahoozee. In fact, we are just going to seal the contract in a couple of weeks from now. It is a dance that they want established as a world class dance. When Sisquo came here about a couple of days ago, he did a Yahoozee dance. Also, Ja Rule went to a club in London and did the dance with footballers like John Terry and the rest. Now, we have an offer by a music video director to re-shoot it on celluloid. It wasn't my idea to do this but it is the attention the dance itself has attracted. The world wants to exploit it. I think the dance originated in Nigeria or from Nigerians based abroad.
Influences
You might be surprised that my musical background is not conventional because while growing up, I listened to a lot of James Brown, Nat King Cole and Frank Sinatra. However, I liked to acquire knowledge by listening to all kinds of music like R&B, Hip-Hop, Jazz, Soul etc. I am a learner and I strongly believe that the day one stops learning is the day one starts dying. When I listened to music, I don't listen with my ears alone, but my head, so that I can absorb and digest it.
Coming into music
When I was younger, I had the talent to mimick people. I could talk like anybody I choose to. This sort of evovled into miming the likes of Bobby Brown and MC Hammer. Later, things changed into rap in 1991/92 with the influence of groups such as Black Mode, Free Sneakings, Sypro Seal. Generally, from writing and singing their lyrics, I began to compose songs and record demos. Things came to a head when I recorded my first single and my meeting with Tolu, who happens to be my first cousin, to form the musical group, Maintain. Our first single was Domitilla in 1998 and Omotoyosi in 1999. Our first album is Ni bo la wa gbe lo which was about a Volkswagen car, this really shot us to the limelight.
Me and Tolu
Tolu is in Ibadan and he is married and working. I can't answer if he is still into music. But I heard he did a song with Big Bamo recently. My relationship with him is cordial. Although there were rumours that we weren't on good terms again but people will always talk. We spoke on phone few days ago and we are to see tomorrow or next.
Fashion
As a celebrity, being fashionable goes along with the work. That is why it is called 'showbusiness'. The person behind most of my custumes is Needles and Stiches, an outfit managed by Abbey, a friend of mine. He's currently doing fashion runs in the UK and Ireland till January and will launch his clothing line next year. As for shoes, I wear all kinds of leather, so far as it fits. However, Gucci is one of my favourites.
Between Olu and Maintain
The difference between the Olu Maintain people see on the screen and my person is that I am a very shy person although I can't afford to be shy on screen. I don't drink, neither do I smoke and I don't even attend night clubs. I am slightly an introvert or let's just say, I am two steps away from being an introvert.
Spending N375,000 on booze
It is true, I was at K's Place which is owned by my friend Frank Papas on the day before the VCD came out. Contrary to the report that we spent N75,000 on drinks, rather, I will like to point out that we spent N375,000. It was the cost of the drinks I bought for people to celebrate the success of my album and my new Chrysler car. A lot of friends, about 100 persons, were there, including ID and Kenny Ogungbe. Everyone was just having fun.
Coping with women
I cope with them the way every other person does. I get by with them because they make the world go round. However, one has to be careful about the manner one relates with them. There is a thin line between a fan and a stalker. I am not engaged and I don't have a fiancé and I am not looking for a wife any more. I believe the right person will show up in God's time. Of course, this is not to say that I have never been into any relationship before now at my age. I am 31 years old this year.
Olu's worth
Well, although I cannot speak in specific terms for obvious reasons, I can reveal this confidently, that the million dollars and the Hummer Jeep which I mentioned in the song Yahoozee are now a reality. I am also about to move into my own house very soon.
Saddest moment
My saddest moment was when I saw the headline that Olu Maintain faced hard times, and his car. That was more than a years ago. Obviously things have changed for the better.
Happiest day
That was when I shook hands with President Umar Yar'Adua when I performed for the triumphant Golden Eaglets at the Aso Villa, Abuja. I jumped off stage to meet the President and he stood-up and shook my hands. I think that was the first time he listened to my song. Of course, I slipped a CD into his hands. He also said something nice about my music.
Piracy
It has never affected me. My works have been doing very well in the market. In fact, my marketer, Afro Best just bought two cars - a Morano Jeep and Honda 2005 (End of Discussion). Imagine how I felt when he brought them to show me in my house. Before the VCD came out, we had moved over 1.3 million audio CDs.
The VCD is barely two months and it has sold over one million copies already.