I am sexy -Funke Akindele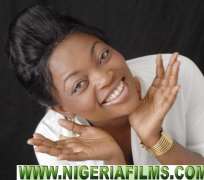 Funke Akindele is a force to reckon with in the Yoruba movie industry having paid her dues. In this interview with TOPE OLUKOLE, the lady, popularly known as Jenifa, speaks about her life and other issues. Excerpts:
Can you take us through your journey into movie making?
I started acting in 1997, by passing through the rigours of auditioning, though the first roles I got were minor roles or "Waka Pass" as we call them. I got my first role in a TV programme; I need to Know, thanks to the producer, LIyod Weaver. After that, I got a few roles in Nollywood movies, I think I did up to 10 movies in Nollywood, but wasn't satisfied with what I was getting out of it and almost backed out.
But my mum and the love I have for this profession kept me in it. My mum kept telling me never to give up and I love this job so much.
So, I kept moving on and one day, I met Ayo Adesanya on the set of the first Yoruba movie I acted; I remember the movie was titled Iru Oka. I was supposed to play the sub-lead but I did not know what happened, I just found out that the director eventually dropped me from the sub-lead role and gave me a very minor role.
Who was the producer?
Kolade Alabi. He eventually gave me a one-scene role. I played it, though I felt very bad and discouraged, but Ayo Adesanya, who was impressed with my performance encouraged me and promised to invite me to feature in her own movie and she kept her words by inviting me to be part of the movie, Ewu-Ika. And there, I met the late Yomi Ogunmola, who was impressed by my acting skills and he invited me to work with him in about four movies. Later, I joined the Odunfa Caucus, where you have the likes of Yinka Quadri, Babatunde Hassan (Ogogo) and the rest of them. I was acting in their movies until I produced my own movie, Ojo Ketala and that happened to be my first major and lead role in a Yoruba movie.
Will you give it to I Need to Know as a veritable training ground for acting?
Yes, I will completely say LIyod Weaver's I Need to Know was my training ground. You know, it was a tight production. LIyod Weaver himself is tight artistically, so, the production team worked on me and we were introduced to professional movie equipment like the DVC PRO, that was the first time I was on set with such facilities.
You started with the Igbo movies and later you veered into Yoruba films, what happened?
I tried my best to stick to the Igbo movies in Nollywood but it just didn't work.
Was there discrimination?
I wouldn't say there was discrimination, even if there was, I will say God wanted it to be so for me. I tried making movies in English but it did not work, after all, there are other Yoruba actors and actresses like Olu Jacobs, Bimbo Akintola, Omotola Jalade, among others, all of them are doing well in Igbo movies. So, I will just say it wasn't my time though I really tried, but it wasn't coming.
Did you attend auditions?
Of course I did. I attended a lot of auditions.
What do you think was the problem?
I can't say, maybe I wasn't what they wanted and if God wanted me to be big in Nollywood, I would have succeeded, but a divine voice said to me to go to the Yoruba films industry. I did and in less than two years, look at where I am? To God be the glory.
If you are given a role in Igbo movie, would you take part in it?
Yes, of course. In fact, I was called to be part of a production by Lancelot Imasuen through Yemi Blaq, but I could not go because I was busy shooting then. If they call me again and I'm free, I will go.
You were trained as a lawyer why did you abandon the wig for the cameras?
My first love is acting, but I did not abandon law. I love law and I try often times to show it in my movies like in Ojo Ketala. I dealt with the issue of rape and in a couple of other films, I have tried to bring in thorny legal issues. Who knows, I might decide to dust my certificate tomorrow and go to the Law School but for now, it is acting and acting all the way.
You wrote Jenifa?
Yes.
What was on your mind?
It all started when my younger sister, who is still in the University of Lagos, got home one day and said; "sister can you imagine, some girls in my school wanted to attend a party in Abuja and while they were at the airport and about to board a plane, a text message was received by one of them and they discovered that the text was from the girl who organised them for the party."
She actually wanted to send it to the organisers in Abuja. The message read in part, "I have sent the girls and please make sure you send my money and keep everything coded oh." After reading the text message, the girls discovered that it was mistakenly sent to their phones and they found out that they were actually organised for rituals.
From the little we know about you, you did not grow up in Ibadan or Oyo but in the movie, Jenifa, you portrayed a local girl, how did you suddenly learn to deliver that smattering Oyo dialect?
Okay, first I had to learn how to speak Oyo dialect because in our traditional movies, it is the only dialect you are allowed to speak in Yoruba movies. So, when it was time to produce Jenifa, I sat down and tapped into the funny element in me because on a good day, I can be very funny and I can be wild in my imaginations too.
So, I decided to travel to Ibadan and Ilorin and I spent a lot of time in their local eateries, and "bukas". While at those two places, I got to interact with all these local girls, picked up their mannerisms and slangs to enable me interpret the character. One great thing I discovered is that those Oyo girls might be local, but they really believe in themselves and they feel so big and confident, so I decided to build the character, Jenifa, in that manner.
You seem to have this tomboy image; do you see yourself as sexy as a lady?
You are right. I see myself as a tomboy but I know I am deep and well in touch with my inner person so I can tell myself; Funke do this or do that, so if you ask me to play a sexy girl for you, I will give you just that. So, I will say I am sexy. Just watch out for my next movie, I am doing the tomboy level all the way, I will be spotting the Mohican hair cut or what do you people call it?

You have acted in both Igbo and Yoruba movies but Yoruba movies sell more. What in your opinion could be responsible for this?
Simple. The depth of our stories and dedicated, loyal fans.
Cast your mind back, who was your best cast on the set of Jenifa?
That is tight but without doubt, I think I love Ireti Osayemi. She played the role of Shakira quite well.
You have sold a new slang: "bigz girlz" to the society, how did you get it?
My family has a friend who comes to our house, his name is Gbolahan, he will always hail us as "big girls" and it just stayed with me. So, when Jenifa was conceived, I decided to apply and localise the slang.
You have worked with a host of male actors in the past, who will you pick as your favourite co-star?
No doubt it will be Uncle Olu Jacobs. He is just too natural; if you ask him to cry, the minute you hear 'action', the man will just bring out tears without stress. And I also love working with Femi Adebayo, he is also intelligent.
Femi Adebayo, like you, is a lawyer. Is there any other meeting point in what you do in the industry.
He is an intelligent guy and people say I am also intelligent. I think that is it.
Speculations are rife that there is romance, are you saying you guys aren't in terms?
No. There is nothing like that between us.
Are you denying your love?
No. I'm not denying my love. When it's time to formally unveil his person, I will gladly do that.
On your set, between talent and training what will you go for?
I will always go for talent
Will you say you have made money from entertainment?
Yes, I have. Although, I have not made that much from acting specifically, but producing movies has been quite rewarding for me.