Surgery update: Nollywood star, Aki, leaves hospital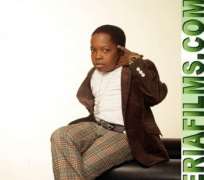 This is definitely cheering news for Nollywood and the teeming fans of star actor, Chinedu Ikedieze, popularly known as 'Aki' who recently underwent a successful operation for acute appendicitis.
Reliable information at our disposal indicates that bedridden Aki, who spent close to one week on the hospital bed recuperating, had been discharged and given a clean bill of health to continue with his life and career. Aki, who's unarguably one of the biggest names in Nollywood, as at the time of filing this report, we reliably gathered was still resting at home in his Ogba residence, surrounded by few family members and friends, and would resume work as soon as he fully recovers.
We had earlier reported exclusively that the Uzoakoli, Abia State-born thespian, was rushed to Isalu Hospital, on Wempco Road, Ogba, Lagos, in the evening of last Saturday by some family members and friends, including his acting twin brother, Osita Iheme (Pawpaw). "Upon arrival on Saturday evening, Aki was immediately admitted and later wheeled to the theatre in the wee hours of the following morning, where one Dr. Charles Davids, a consultant surgeon, successfully performed the operation," said a family member.
Confirming the story, the multiple award winning actor who spoke with us via phone, said he cannot thank God enough for saving his life. "Azuh, sincerely, to God be the glory that the whole operation went well, I'm full of thanks and praises to God for seeing me through. I also thank my family and friends that rushed me to the hospital and equally kept vigil throughout by praying fervently for me. I also thank my fans and colleagues who kept calling."
On how the whole thing started, the HND Mass Communications graduate of the Institute of Management and Technology (IMT), Enugu, said he could not comprehend what could have led to it. "I just knew that I was feeling serious pains that Saturday and when I could no longer bear it, I was rushed to the hospital and was on admission till the operation was successfully performed very early the following day. I feel strong and better now and cannot wait to go back to work."
Aki, with over one hundred movies to his credit in Nollywood, became a household name when he alongside Pawpaw thrilled movie buffs in the monster hit movie, Aki na Ukwa, from the stable of Kas-Vid International. He was recently decorated with the MFR national honours award by the Federal Government of Nigeria