The Art Of Deception Movie Premiere in Atlanta G.A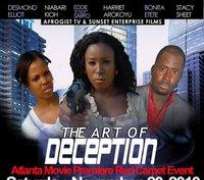 From the Afrogist tv & Sunset Enterprise Film Studios, comes a new horizon to the Nollywood big screen. Acclaimed small film & T.V director/Producer Peter Uko finally applied his excellence to the big screen and let's just say, you would think this was one of hundreds of movies he has already done. " The Art Of Deception" starring Nollywood powerhouse actor/producer/director: Desmond Elliot and several up and comers like Niabari Kioh, Bonita Etete, Harriet Arokoyu and Eddie Sarfo. Also featuring Teddy Ikpeme, Lourdes Gbeaday, Stacy Sheets and Kweku Hutchison and many more, is an evolution to Nigerian movies shot overseas. "The Art of Deception" was shot in Atlanta, GA home to the Afrogist Studios and home to a large population of Nigerian Americans, Nigerians in the U.S and a large settlement of residences from all over Africa.
This is Red Carpet starts at 8:30p.m. The Art Of Deception movie premiere will take place at Plaza Theatre. 1049 Ponce De Leon Ave NE Atlanta, GA $15 for Advance Ticket.
The movie star John ( Elliot) An everyday I.T tech with a smooth and steady married life until pandemonium breaks loose. He begins to query his wife Lola (Bonita Etete) and his marriage after insinuations that one of the two of them might be unable to have kids. Pregnancy tests, examinations, remedies and so many twists and turns have these two butting more than just heads.
Harriet (Arokoyu) is a T.V broadcaster who is too busy for her husband Jamal (Sarfo) who she loves and cherishes. Will Jamal be force to leave his wife or deal with the situation?