DON'T BLAME IBB FOR NIGERIA'S WOES – AWORI YOUTH VANGUARD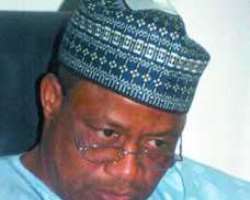 A group, The Awori Youth Vanguard of Nigeria, has cautioned Nigerians against blaming former President Ibrahim Babangida for all the nation's woes. The group made the declaration in a statement signed by its Secretary, Dr. Yinka Badmus, in Lagos yesterday, noting that it was most unfair to continue to blame the former military president for the woes besetting the nation, 17 years and six heads of governments after he left office.
The group said continuous heaping of Nigeria's problems at the doorstep of the Peoples Democratic Party (PDP) presidential aspirant was 'unrealistic, deceptive and unnecessary blame- game politics without which his detractors are politically irrelevant.'
Badmus, who listed what he referred to as the familiar template of Babangida's political sins by his detractors to include the annulment of June 12 election, Dele Giwa and 12.4 billion-dollar Gulf War oil windfall, averred that there was more of politics to the accusations than substance.
On June 12, he stated :'At the appropriate time, Nigerians will not only know but would be shocked to discover those who pressurised IBB to annul the election, freest and fairest ever, including the man who said Abiola was not the messiah. Thus we must all reason to appreciate the issue in its true elements vis-Ã -vis our judgements.'
'Moreover, his interest in democracy and the election can never be in doubt otherwise he could have aborted the election via Association for Better Nigeria's (ABN) injunction but he overruled it. He has since been remorseful and accepted responsibility as a leader for all that was June 12. Yet we must remind ourselves that those who are claiming to be democrats today were the same people who quickly accepted interim government in place of the new expedited election proposed by IBB then.
'Thus such deliberate insistence on falsehood and campaign of calumny against IBB by the so-called 'democrats' and tenants of democracy and the plan to stop IBB at all cost only point to his popularity. IBB's fate should be allowed to be decided by the people as it obtains in a democracy. Nigerians are today more worried about their future and how massive government revenues can translate to benefits for them and this is what IBB is offering'.
Badmus added that the Okigbo Panel was set up to examine the restructuring of the Central Bank of Nigeria (CBN), not only under Babangida's era but also other governments like those of Shonekan and Abacha. He said this was a point often conveniently omitted, adding that the report never indicted IBB but concluded that some of the projects on which money was spent were not priority projects.
He noted: 'But when we look back today, those projects remain the nation's monuments in infrastructure, industrial and socio-economic development of the nation. We have to compare the revenues under IBB with those we have had from 1999 till date and see the level of developments across board and we can then appreciate the fact that IBB deserves some respectable credit and, indeed, deserving of his quest to rebuild and improve significantly on our national agenda and overall development as a reformer.'
'Yes, IBB's critics should relate his tenure to the squandering of 20 billion dollars excess crude funds in four months and depletion of external reserves to 33 billion dollars now in just some months to properly situate his legacy.'
The statement similarly regretted the fate of Dele Giwa, whom Badmus regarded as a great journalist but said the recurring attachment of his death to General Babangida in spite of court's avowal to the contrary was a calculated attempt to smear his image and reputation.
He said about eight other journalists who lost their lives in similar circumstances in this democratic dispensation were also deserving of attention.