IJE NETS N47M FROM CINEMA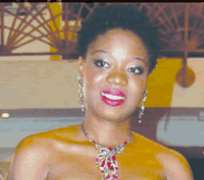 Chineze Anyaene, producer and director of the movie
Nigerian's movie exploit in cinema started with Through the Glass produced and directed by Stephanie Okereke, the movie was said to have grossed over N10 million. Figurine, by Kunle Afolayan followed with over N22 million and now Ije, the latest offering from US based Nigerian, Chimezie is said to have broken records by grossing over N47 million.
With this amount, said to have been grossed from six cinema houses, Ije is competing favourably with other Hollywood movies and no Nollywood movie has done anything close to that. For now, there are only few Hollywood movies in Nigeria that has done more than N47 million, among which is Avatar, which did over N80 million.
Ije was shown in Lagos, Abuja and Port Harcourt. And it became the longest running movie in cinema when it kept doing cinema runs for over three months and it kept packing the halls week after week. Ozone Cinema in Yaba was said to have sold the highest and cinema owners reluctantly pulled it from the screens.
The movie features Omotola and Genevieve; many attributed the success of the movie to the two actresses who are adjudged to be the leading light of African movie at the moment.