I'M NOT IN JAIL —BABA SUWE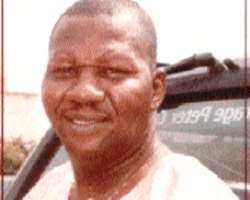 Controversial comedian, Babatunde Omidina a.k.a. Baba Suwe, has refuted the news making the rounds that he is currently serving a jail term in London on an alleged drug related offences.
In a chat with us, the ace comedian said that his being off the scene for sometime now is not connected with the alleged arrest while working as a courier for a popular suspected drug baron who he often eulogises in his films.
The award-winning actor said he had been in the country all the while, going to film locations and currently working on a new film, which he produced.
"I have never been jailed in my life or handcuffed apart from my expensive wristwatches.
"Any way, I have developed a thick-skin about some of the reports or rumours I read and hear about myself. Some day, I know I shall be vindicated and let off the hook of blatant liars and rumour mongers," he said, adding that he is still very active in movies "except that we are trying to give room for the upcoming ones to also gain prominence since they now see most of us as role models."
He also disclosed that he is taking time to tutor his proteges and as well package a new project which is still in the offing.