BIO MAKES U-TURN ON MAIGARI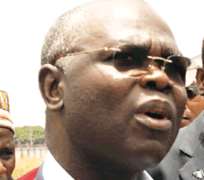 Bio
The Special Assistant to the Honourable Minister of Sports and Chairman of the National Sports Commission (NSC), Alhaji Ibrahim Isa Bio on media, Olukayode Thomas, has described as untrue media report that the minister called on Alhaji Aminu Maigari and members of the Nigeria Football Federation (NFF) board to resign.
Alhaji Bio addressed the media at the Media Center of the National Stadium, Abuja, on Tuesday, to brief Nigerians on the performances of Team Nigeria athletes at the just concluded Delhi 2010 Commonwealth Games, Thomas said. He, however, said that advice to Maigari to resign story is baseless and false. The minister, according to him, did not even mention Maigari's name all through the Press conference, not to talk of calling for his resignation.
'During the question and answer session, reporters asked the minister a questionabout executive committee of the NFF, the minister said government had been accused of interfering in the affairs of NFF, so he would love to stay clear of football matter. The minister however advised Nigerian sports administrators to emulate their counterparts elsewhere to learn the act of resigning when they have failed instead of trying to manipulate the process to stay in office, Thomas said.
'The Honourable Minister said we must learn to say I am sorry. We have to learn to throw in the towel for some other people to come and try but it is sit-tight syndrome everywhere. But if I am Nigerian football administrators, I will say I am sorry I have used my ability to the fullest, but it has not worked, so let someone else come and try. But this is not the case. 'Nigerian football administrators have dragged everybody to the limit.
They have dragged us before FIFA, they dragged government before FIFA and were tempted to say let us call the bluff of FIFA and sit down but you see all these things, now that everybody has gone 360 degree without government interference, or with government interference, we should now sit down and rationally take steps that would restore our former glory in football'. Thomas urged his colleagues, who he described as partners in progress to always seek clarification on issues that are unclear.