AFRICAN WOMEN CHAMPIONSHIP 2010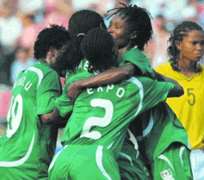 Five months after South Africa hosted the first-ever FIFA World Cup on African soil, the continent's women folks are set to take the centre stage in the Nelson Mandela's country to continue from where the men from all over the globe stopped.
The port of call this time around, Ekhurleni, east of Johannesburg, will be agog for the 7th edition of the prestigious African Women Football Championship (AWC).
The women's version of the Nations Cup kicks off this Sunday, running through November 14, 2010, with seven countries from the continent joining the host, South Africa, to determine the best team on the continent.
For two weeks, the African women, who will don their various national colours, will hold the continent spellbound with their agile determination to outwit each other to the trophy.
The major significance of this biennial championship is that the last two teams standing will represent Africa at the 2011 FIFA World Cup in Germany.
For the purpose of the tournament, the participants were split into two pools of four teams each, with Group A having South Africa, Nigeria, Mali and debutante, Tanzania, with the first two teams heavily favoured to reach the knockout stages of the competition.
Group B, which has more than two favoured teams, has titleholder, Equatorial Guinea, Algeria, Ghana and Cameroon.
However, the Equatorial Guinea side, to some extent, may not be a threat outside their home environment where they captured the trophy two years ago on controversial circumstances, as there were rumours about cheating in gender levelled against them.
South Africa will kick start the tourney on Sunday against newcomer, Tanzania, at the Sinaba Stadium in Benoni. The stadium, one of the facilities that were upgraded for the FIFA 2010 World Cup, will play host to majority of the games during the 2010 AWC.
Between 1998, when the AWC commenced, till 2006, Nigeria's Super Falcons won the tournament's trophy all through for six times before Equatorial Guinea claimed it in 2008 on their home soil.
A great number of players, who have competed in the championship, had gone further to carve a niche for themselves as professionals in Europe and other parts of the world. Some of such players include the first African Woman Player of the Year award recipient, Mercy Akide, Florence Omagbemi and Kikelomo Ajayi, all of Nigeria, Bernadette Anong of Cameroon, Ajoa Bayor of Ghana and Portia Modise of South Africa.
South Africa, Nigeria, Ghana, Cameroon, Mali, Algeria, Equatorial Guinea, and Tanzania are the eight countries that will battle for honours in this edition of the championship.