I SUPPORT JONATHAN!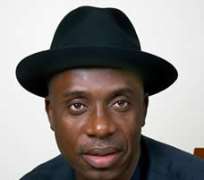 Gov. Amaechi
By recent court ruling, Governor Rotimi Amaechi of Rivers state would be in office for 43 instead of 48 months. Someone had usurped his position for five months prior to the landmark judgment of the Supreme Court, which handed the position to Amaechi. Now the courts ruled that since the usurper was from the same party, it was a continuous mandate. They argue that the mandate was to the party and not to an individual. Rotimi has appealed the ruling but says he would always abide by whatever the courts finally say especially given the circumstance of his emergence. The implication is that he may face the electorate next year.
But Amaechi has ran at a neck-breaking pace in governance, which is why he has confidence in the verdict of the people. Whether they are roads into such riverine communities, where roads never existed or secondary schools that look like universities or Primary Health Care centres or the first monorail system in Africa or several others, the man has etched his name in the sands of time. But one hurdle Amaechi has yet to cross is the erroneous perception that his loyalties for the 2011 presidential elections lie elsewhere other than the Niger Delta. Such views make Amaechi rather furious given that he hosted the meeting of South- south Governors where a unanimous decision was taken that, being a son of the Niger Delta President Goodluck Jonathan remains endorsed by all governors from the zone. In a recent interaction with the media Amaechi spoke on the matter among other issues. Excerpts
On previous restiveness in Niger Delta
What we had was not ideological. What we had was outright criminality and the only solution is social security. It is only when you have that in place that you can then talk about physical security. I thought Nigerians were listening to me when I said that the problem we have in the country is that government is unable to provide legitimate means of livelihood for people, which means that citizens will develop their own illegitimate means of survival. And it is the class one belongs to that defines what is legitimate or criminal. Meanwhile the inability of government to provide a legitimate means is not described as criminal. The point to be made, really, is that if what was happening in the Niger Delta was ideological you cannot suppress it. You can never suppress ideas. You cannot stop ideas. What you saw in Niger Delta was that there was inequity or injustice if you like, being visited against the people of the area and then some people leveraged on it to victimise even their own relations just to get money into their pockets. If you want to fight for the Niger Delta people then you take actions that will liberate the people you are fighting for. No such thing was happening both in theory and in practice, it was just a confused atmosphere.
Did they have sponsors?
I don't know if they had sponsors but, as I have said, what they were doing was not ideological. The mere fact that Governor Amaechi is working with the police and Army cannot suppress an idea. An idea will always germinate and take its root. The fact that we were able to fight them successfully is a clear indication that it was not an ideology.
What gave you courage to fight them?
When I was in school, I wrote my thesis on violence. One of the things you learn is that you do not stop violence by waving the olive branch. The only way to achieve peace in a violent atmosphere is to let the perpetrator know that you are fully equipped to take him on. In this case the Federal government had the Army, police, Navy etc. you don't negotiate return of peace. It is a vital function of government. I want everybody to know that I support the Niger Delta struggle but the Niger Delta struggle should not repeat the same mistake Nigeria made against the Niger Delta people. My anger is that Nigeria visited violence on us, then why will the Niger Delta people now visit violence on themselves.
The Niger Delta people have to agree on how to pursue the struggle. I was Speaker of the state Assembly, there was never a time we agreed to carry arms against Nigeria. So why should people now carry arms to terrorize their own people. In spite of all the challenges there has never been a time that the Nigerian state agreed that we should go our separate ways, I would always join our people to protest the injustice but what I would not tolerate is some illiterate young men who do not even understand what injustice means doing harm to the Niger Delta. By the time we came businesses had relocated to a large extent from Port Harcourt. Nightlife was dying, something that was the hallmark of a typical Rivers man, all because of the activities of these people who are just exhibiting criminal tendencies for personal gains. I now asked some basic questions to the security operatives and they told me they could restore peace to Port Harcourt if I gave them materials and also have the political will. So I gave them double portion of political will.
On Amnesty
I never said the amnesty did not succeed. If for anything it has taken a lot of these boys off the streets. Somehow it has achieved some level of peace. While we commend the federal government on that, we still need to make the point that there are millions of youths who are saying that the whole thing is unfair since it now appears as if crime is being rewarded. It is a dicey thing. When the militants asked for an extension of time for the amnesty, the late president called for a meeting, I was abroad at that time so I sent my deputy to tell them that Rivers state will not support an extension.
What is motivating these your projects especially in the area of education where you have built secondary schools that look like universities and primary schools that have no rivals anywhere in the country. Is it your background?
If you look at it from my background then you will only appreciate it from point of view of poverty. Any time I talk about it I cry. The last time such tears came was when I was addressing NUPENG and PENGASSIN people. I broke down because I remembered my background, how poor it was. In the place we lived, we were the only family living in two rooms.
The rest were living with wives and children in one room. All the occupants had just one toilet and bathroom. You can imagine how early you have to be awake to go to toilet, take your bath before going to school. That is the motivation for free education and free health care. As for the vision for the primary schools, it came with my visit to Australia in 2001 where I saw this very beautiful primary school and I said this is what a primary school should look like. For the secondary school I was motivated by my children's school in the United Kingdom and if you go to their school you will see how beautiful it is, so I said why can we not have this kind of school in Rivers. And when we eventually completed ours, they are even better than the schools in the U.K. I think the reason is that we provided for one thousand students in each school where there will be two students in one room. Now I have a proposal before me from Educom in India on how to manage the schools.
I have not finished reading it before you came but I have found that there is nothing in the paper that I have not thought about. I had already mentioned it in the exco meeting for instance that each school should have a board of governors just as Educom is proposing in this paper. Teachers, parents and pupils will be involved. That board will make regulations for the school. Then government will serve as parents for the pupils in terms of paying whatever charges the board will fix as school fees, we will lift the money from our purse and pay for each child. From that money both the management and board of governors will run the school. It is still free education because government will pay the fees for each child to the board and they will now run the school with the money.
How will the board operate
They will just meet from time to time to decide on what happens. If I am to be a member I will propose that a member should go there every week to see what is happening and that would take care of the inability of government to send inspectors
What about the curriculum
That's where we are now. We are having a retreat at the end of October to trash the matter. The state education summit will be held in calabar. I have asked the commissioner of education to give me enrolment figures so that we can determine whether to phase out the old schools. I also want to know what capacity each school can take because we have told them that we do not want more than 25 students in a class. We want to equip each child with a computer at both primary and secondary school levels. I have now seen that the Indians are giving me something cheaper in terms of computers. I had earlier told them not to bother with computers but going through their proposal I now find that they are giving me something more affordable. So I will deal with them and scale down the contract we initially gave out for laptops. This year we won the best state in the education sector. Those are things we are determined to sustain.
What about sustaining these things
My take on it is that I should just build the institutions and make laws to sustain them. The Board of Trustees will be there to manage what we are getting from the social welfare contributory levy. At least the successors will know that there is something they are collecting from the people. Although, as things stand, even the levy cannot take care of a third of the expenditure on education. But the government will know that in spite of the huge expenditure there is something being contributed by the people. So for it to be sustainable the first thing we have done is to get people to participate in contributing something towards the sustenance of those schools. Some people are paying 100, 200, 300; some are paying 500, 1000.
But nobody is paying more than 5000 Naira per annum except political office holders who are paying 10,000. We are also trying to see whether we can get the companies to make their own contributions. No matter what they contribute it may not even take care of feeding alone because we have said that the new secondary schools must be full boarding schools. The idea is to take some of these children away from their parents because these parents do not seem to be in a position to manage their children because of the harsh economic realities.
When we were growing up my father will give you a beating of your life if you did not come back home by 6pm. You don't see that happening these days. The parents are not even at home themselves. So we are trying to see how many children we can take and keep in the school for at least nine months in a year. Maintenance is key to these schools. Currently we have out sourced the maintenance of primary schools. I think that will go a long way towards sustaining these things. But you never can tell who the next governor would be and how brilliant he would be, he might even be better and more brilliant than I am and so have better ideas on how to sustain these things. Someone talked about how to power those schools.
They all have generators but we are changing then into solar power. As for the internet facility, it will only be available in the secondary schools for now. with the functional primary schools we notice that people are pulling their children from private schools and bringing them to the public schools. I had to shut down admission into the one at Elekahia. I said these schools are for the poor. Those who can afford private schools should not come and deny children of poor people good and quality education.
Apart from the issue of sustainability, wont there be a lowering of standards at some point. At a point in lagos they did not have enough schools to take care of those who were coming to enjoy free education as you now have here. Again are you not getting into big government in terms all these provisions. Most people now advocate small government.
If I was in Britain or America I wont get involved in big government, you have a government here where people do not even thank you for what you are doing. Before I came,by this time [8.30pm] you won't find any body on the street, now we have restored security and night life and people have easily forgotten what used to obtain before we came. Nobody is even saying please do not disturb my governor, we can now move about freely without fear. The same thing is happening in education.
People will complain about poor standards and all that but now we are about to get it right, once we do that, they will forget how it was in the past. Believe me I am not doing these things for people to praise me and say oh Amaechi is trying, If I wanted that I would just build the fine structure and not bother about the content and management. I would have achieved popularity because I can say boldly that in the history of this state no government has built 24 secondary schools at the same time. I am not even talking about the high quality but just the number . No one has built or even proposed to build 750 primary schools at the same time as we are doing.
Where are getting the money for these things, excess crude?
I don't know about excess crude, in fact we were saving it before Akwa Ibom took our money. By the time we started touching excess crude we had gone far with the primary and secondary schools. It is not that. Maybe when I leave government I will ask myself where I got the spirit driving me to do all these things because some times I see that the wallet is empty yet I still go ahead with projects.
So how are you funding them?
There are two ways. First is that we are extremely prudent. When you hear EFCC talk about corruption in River state, I ask myself 'where are they coming from'. I do not believe in commissioning projects but because of this EFCC thing we now have set up a committee for our three years anniversary. They have come up with what they call 60-in-60, which means that for 60 days we shall commission 60 of our brand new functional health centres. I told them that we have more than 60, they said it does not rhyme well to take any other number.
They said later we shall go into another phase and I have suggested to them that we could do 150-in-150 for primary schools for people to see. Non of these primary schools or health centres is below one hundred million naira. So how can any body say that we are mismanaging funds? We are disciplining ourselves to ensure that we deliver. Ask the commissioners. They all say the governor is too stingy and I ask them when I was Speaker, was I this stingy? Now I am faced with the stark reality of the fact that at this age and stage in the life of this state, we are still building primary schools, rather than maintaining existing ones. We are compelled to build 750 primary schools and demolish the so-called existing primary schools. The worst period was last year when I was getting only 10 billion naira monthly.
The revenue fell from 25billion to 15billion and then 10billion. My salary bill is over five billion naira. This is because when I came salaries had been increased by 50 percent but not implemented. I had to implement. When I came the state had only 200 medical doctors to look after 5.6 million people in the state. I had to hire another 200 doctors. We found that you cannot succeed in the Secondary Health care without getting the Primary Health care right. So also in education, you cannot get the Secondary schools right without fixing the Primary schools. we began trying to fix these things because they are fundamental. By the kind of training we want to give these secondary school children, they will compete with any body in the world.
Are these projects not adversely affecting finances in the state?
They are but we have to bear it. Sometimes we find that we have nothing in our purse. But we can see where the money is deployed. The good thing for me is that I don't like money. We have been rated high by all monitoring groups.
You seem not to have godfathers that's why you are performing so well
Did you read Femi Adesina in The Sun recently? He saw one or two of our projects, especially the monorail, which I don't think you people saw. That is going to be the first in Africa. Femi went and wrote what he saw and some politicians took paid adverstisement to attack him. The truth is that you have to be able to separate interest of party members and godfathers from the interest of the people. You will not succeed in achieving your objectives if you keep feeding these other interests. Quite honestly the PDP in Rivers has been very supportive and quite understanding and I thank God for that. They know that if we want to remain in power for long , then we have to impact the lives of people.
Whats your take on the court ruling that your tenure has to end in May next year
We have gone on appeal but as you know we are born by the rule of law so we have to abide by the law.
But the difference is not much you would only be losing five months
Five months of being in government is long [General laughter]
What about the Assembly, which will now have tenure different from yours
I don't see any problem there. You just have to learn how to manage your Assemly. The Assembly people themselves know that the people's interest should be paramount. I have been working with an Assembly that I did not help to put in place. They have been wonderful because they know that we are working for Rivers people. I don't see how that becomes a challenge for a governor.
Local Government funds
You can ask the local government chairmen. Instead of taking their money, I am the one giving them. Even in this our social welfare contributory fund where they said they would bring two percent of their income, I did not want it but the state Assembly insisted that they must contribute something because the two responsibilities we want to take over actually belongs to the local councils.
2011 polls
Presiden Jonathan has promised free and fair polls and I believe him because I have discussed one-on-one with him and I believe him. He told me the only reason people abuse Nigerians everywhere we go is the inability of the country to conduct free and fair elections. He has therefore said the attainment of credible elections is one thing that is uppermost in his mind. But then he would not have to go out and tell people to go and vote. What he needs to do is to set up the institutions. He has set up INEC and for me he has set up a credible INEC. The President has played his role. The National Assembly should also play their role towards that credible process. We governors should also play our role. Nobody should be seen to be denying the people their right to choose their governor.
Opposition politicians within
I have long said that if anybody is expecting me to share money, I will not. It as simple as that.
Considering all these projects you are putting in place, what kind of feedback are you getting from the people
In matters like this I am very pessimistic. I say so because I have been in government under Rufus Ada George and Odili. When you are in power people sing your praise. They will say oh Amaechi you are doing so well that since after Spiff no one has done well like you. I also heard people tell Odili and George that kind of thing. I am getting those kinds of feedbacks but they don't mean anything to me. I go through the streets and people wave, they also waved my former boss like that, I have seen all that. My focus is to do my beat. All I want is to do something that my children and generations to come will be proud of and leave a legacy.
Do you see yourself getting a second term?
The people will decide. I am not a seer. When I was in the university I used to have this room mate who was very popular in the campus. He ran for the position of sports secretary and he lost. In politics it is not necessarily about popularity. If it was, the first black president would have been Collin Powel. When they urged him to run for office he told them that there was a difference between popularity and winning election.
On Jonatahn and 2011
I was at the Eagle Square the day he declared and I did say that President Jonathan is a son of the Niger Delta and that we cannot afford not to support him. I don't know why this is so difficult for people to understand. I don't fight shy. If I don't support the President you don't need to guess about where I stand. I hardly fear to state my position. I had said to everybody that the President comes from our zone and governors from the zone have taken a position to support him. The meeting where we agreed to support him was hosted by me here in Port Harcourt.