YES, MY MARRIAGE IS OVER-SADE OMONIYI (LEPA SHANDY)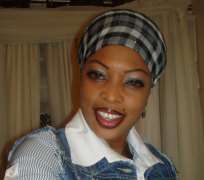 A few months back that we reported the crack in the marriage between the sexy actress Sade Omoniyi and her beau, Adepoju Kassim, a lot of people didn't take us serious. In fact, some people condemned the reporter and called him all sorts of names. www.nollywoodgists.com can authoritatively reveal that, the very slim Nollywood actress, Sade, has confessed that, truly, her marriage has collapsed irreconcilably.
"Yes, my marriage is over. I tried to make it work but my husband frustrated all my efforts. Even when he stopped communicating with me, I still continued twice to contact him in London to see how we could make things work but all to no avail." She opened up to a Nigeria's celebrity magazine recently.
The crack in Sade's 6-year old marriage to this London big boy, Adepoju Kassim, we learnt, started when they tied the knot and the husband, shortly after their marriage, got the visa to London. Ever since the dude has been in London, the communication gap between Sade and him, we gathered, became unabridged and this didn't go down well on the new bride, Sade. According to the report gathered, Sade's marriage crashed about two years ago when her husband stopped communicating with her and she wasn't enjoying the fact that she was living with her husband's mum and relatives.
"It was when she could no longer cope that she moved out of the Ajao Estate, Isolo area of Lagos' matrimonial home to Ikorodu where she stays now." Though, some people are also pointing an accusing finger on Sade due to her recklessness as she was sighted in London twice with another lover while she was still very much married to the Adepojus, however, Sade, before she started parading the new lover, was said to have made former announcement of her divorce to Kassim and his family but they seemed not to take it seriously.
When ask what she intends to do next, now that her marriage is over, "I am single now but I am not searching. I need time to sort myself out." She said.