Enugu PDP Fights Nwodo, Say 'State Exco Dissolution Mischievous, Selfish'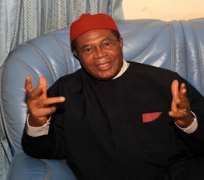 ABUJA, Oct 24, (THEWILL) - The battle of wits between the Peoples Democratic Party (PDP) Enugu State Chapter and the party's National Chairman, Dr. Okwesilieze Nwodo has snowballed into an open altercation following the dissolution of the State Executive Committee on the party at the weekend by the National Working Committee (NWC) of the party.
The angry state executives described development as the handiwork of mischievous and self-centered elements in the state.
The announcement of the dissolution of the Executive Committee of the party in Enugu was made public over the weekend via a letter by the media aide to the National Chairman of the party, Mr. Ike Abonyi.
Swiftly, the state chairman of the party, Mr. Vita Abba in a statement on Sunday in Abuja described the action as a desperate attempt by some few persons in the state to influence a new congress in the state.
"The attention of the PDP Enugu State Chapter has been drawn to the purported dissolution of its Executive Committee by the National Secretariat of the party through a letter signed by the media aide to the National Chairman, Mr. Ike Abonyi.
The statement reads: "The Enugu State Chapter of the party wishes to state that the said action is only but the handiwork of mischievous and self-centered elements in the state, who want to take advantage of a non-existent parallel executive committee of the party in the state to misrepresent, manipulate and instigate the Independent National Electoral Commission (INEC) into recommending fresh congress of the party in Enugu State, against the duly, peacefully and constitutionally conducted state congress of the party on February 28, 2008 which produced the current executive committee in the state under the leadership of Engr. Vita Abba.
"It is on record that the current executive committee led by Engr. Abba was duly elected through a process that kept faith with the composition of required delegates for the state congress as stipulated in Article 12 (40) of the PDP Constitution. "It was acknowledged in a report dated March 3 2008, sent to INEC by its then Resident Electoral Commissioner (REC) in Enugu State, Dr Abdu Bulamawho monitored the congress with other top officials of INEC from Abuja. The Exco has always enjoyed the confidence and support of the national leadership of the party since its inception till-date.
"Further, it is not the prerogative of any individual to dissolve or reconstitute a state executive committee as this breaches laid-down procedures of our great party.
"In the face of the recent contentious development, we urge our teeming party faithful in the state to remain calm and law abiding as measures are been taken to constitutionally resolve the extant issues. It is also what noting here that this matter is currently before a Federal High Court in Enugu State," it added.