Rot in Bayelsa education sector…. Commissioner fingered in contract scam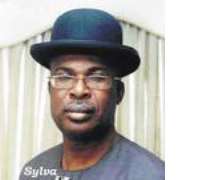 A stinking can of worms has been opened in the Ministry of education in Bayelsa state as the rot in the state education sector over contract scams and non execution of projects go sky-high. This ugly development has also pitched the people against the  non people oriented governance of Governor Timipre Sylva , whose alleged poor performance ignited the rage of Bayelsans and resulting to stoning the governor when President Goodluck Jonathan visited his home state. However, Gov. Timipre Sylva insists that the attack on him during a civic reception in honor of President Jonathan Goodluck at the Samson Siasia Stadium was politically motivated. Sylva, said some people who parade themselves as ex-militants were responsible for the incident, and likened it to the Abuja bomb blast .
 
  Hear him:  'What happened is like the bomb blasts to disrupt the October 1 celebrations; here they tried to embarrass…., they claim to be ex-militants but they are not, their sole aim was to disrupt the event. 'The security agencies were asked to allow everyone to enter the venue of reception, not knowing they were miscreants.'
  Magaga Enterprises, a company, allegedly owned by the Bayelsa state commissioner for education, Mrs. Josephine Ezobondor was awarded the contract to supply 1000 dual desk to RNGS Agbere, a secondary school in Agbere community in Sagbama local government area, at a contract value of N17 million and paid in full even when nothing has been delivered to the said school.
  Findings in the project unit of the ministry of education on 2008/2009 projects embarked upon by the ministry revealed that a total sum of N161 million was put at contract value for reviving the sector with almost 100 percent amount of the contract sum already paid to various contractors who are cronies of the education commissioner, including the Permanent Secretary of the ministry, Mrs. Tekena.
  The near lack of infrastructure development has bedeviled the major sectors of Bayelsa state economy and Governor Timipre Sylva has been adduced to be a non performer as contracts are usually awarded to those who bolt with public funds. The growing fraud in the state is also said to be due to lack of establishment of an inspectorate unit by the governor, who virtually has no time to inspect projects that are supposed to be executed in the state, especially the rural communities.
  The commissioner, Mrs. Josephine Ezobondor, according to dependable sources has employed an expatriate consultant on school reforms, who is paid millions of dollars without due consultation with the governor even as the state government has reneged in the payment of the West African Examinations Council (WAEC) fees for students, thereby depriving such students from getting their results and accessing University admission.
  Complaints are rife that an Accountant in the education ministry has been suspended due to high scale fraud involving the commissioner and permanent secretary over embezzlement of deductible taxes from contracts and contractors retainership funds accruing to the Federal Inland Revenue Services (FIRS). The matter is said to have been reported to the Economic and Financial Crimes Commission (EFCC) which has started investigation on the matter