ASSERT YOUR AUTHORITY, DARAH URGES JONATHAN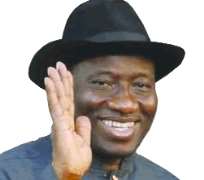 Former Editorial Board Chairman of The Guardian Newspapers, Professor Godin Darah, has stressed the need for President Goodluck Jonathan to assert his authority as the president of the country.
He said that unless President Jonathan is transformed and transfigured from being in government to being in power, he would not assume full control of the presidency.
The erudite professor of English and Oral Literature said this during the celebration of the 50th anniversary of Nigeria's independence and endorsement of Goodluck Jonathan for 2011 presidential election by the people of Niger Delta yesterday at the National Arts Theatre, Iganmu, Lagos.
He berated successive Nigerian leaders from 1967 when Gen Yakubu Gown was in power for total neglect of the Niger Delta region, and charged President Jonathan to ensure that Section 44(3) of the Nigerian constitution is removed. 'Of all the things that President Jonathan will do for the Niger Delta people to have a sense of belonging in this country and assure them that he is in charge, two things are paramount.
'First, Section 44(3) of the Nigerian Constitution must be removed and thrown into the Atlantic Ocean.
This is a section that gives 87 per cent of our resources to the federal government, leaving a meagre 13 per cent for us. It is tantamount to armed robbery and we can no longer accept such injustice. 'Secondly, he must ensure that there is free education for every Niger Delta citizen from primary school to doctorate level wherever such citizen may be as the only thing that will wipe away tears of neglect from the eyes of our people,' Darah said.
Also speaking at the event, the host and national coordinator of the Ijaw Monitoring Group (IMG), Comrade Joseph Evah, said if the blacks in America could produce Barack Obama as their president, then the people of Niger Delta could also produce a Goodluck Jonathan as the president of Nigeria. He called on the people of Niger Delta to support Jonathan in 2011, as that is the only way other Nigerians would support him.