JONATHAN IN YENAGOA, SAYS NOW IS TIME TO BUILD NEW NIGERIA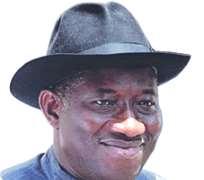 President Goodluck Jonathan yesterday in Yenagoa, Bayelsa State capital, reiterated his determination to build a new Nigeria. According to him, the time is ripe for things to be done differently for the interest of all Nigerians and the development of the country.
Speaking at a civic reception held in his honour, at the Samson Siasia Stadium, as part of activities lined up for his maiden two-day official visit to his home state, Bayelsa, Jonathan noted that his rise to become the President was evidence that one does not need to come from the richest or the most educated home to be the country's leader.
Jonathan, who had earlier bagged a chieftaincy title of Pere of Bayelsa State, from the state traditional rulers council, amid shouts of 'We love you' from thousands of youths, paid tribute to the late President Umar Yar'Adua for the amnesty exercise, which brought peace to the Niger Delta region.
He stated that as a Niger Deltan at the centre, he would not disappoint the people but make them proud by giving his best as the president.
Tracing the development of Bayelsa State through successive governors since 1996, he appealed to the people of the state, especially the youths, to cooperate with Governor Timipre Sylva in his efforts to develop the state.
Sylva, in his welcome remarks, pointed out that there was no question about where Bayelsa State stands in the forthcoming presidential primaries and the general elections. He seized the opportunity to appeal to 'other compatriots to make their votes count on the side of justice by voting for President Jonathan.'
He argued that it was only fair that after 50 years of independence the region that produces the oil, which has kept Nigeria alive, be allowed to produce the president for the first time.
While saluting the courage of Jonathan for steering the ship of Nigeria maturely during the illness of the late President Yar'Adua, he added that the president's dedication and commitment had 'renewed our faith in Nigeria.'
Sylva, who highlighted the challenges faced by his administration at inception in 2007 and the achievements recorded, poured encomiums on Jonathan for laying the foundation which his administration has built upon.
Noting that for the first time 'Bayelsa is having a sense of belonging,' Sylva expressed confidence that with peace back in the state, his administration would strive to justify the mandate of the people.