8 Style steals from most stylish Nollywood women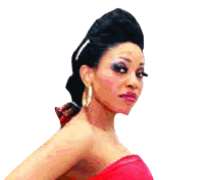 These women make heads turn on the red carpet any time. They know the rules and they play by them. They top the list of the best-dressed.
Learn from these classy Nollywood women and find out which style you love and how to work it to your advantage no matter your body shape.
Rita Dominic
She is known for her hot and sexy hairstyles. Rita is a red carpet delight , because her style is usually inspired from the retro style but she always looks modern. Rita is also known for adding a personal touch to what she wears and she always looks fresh in them. The cute and petite actress who won the most stylish and sexiest actress some years ago pays so much attention to her skin and loves to flaunt her assets. Our sexy diva can be described as a minimalist who takes it slowly when it comes to accessories. But when it comes to make-up she just loves to play with colors and she comes out all bright and beautiful.
Genevieve Nnaji
Ever wondered how Genny manages to look so gorgeous year after year? It's simply, because the Nolloywood diva weaves her beauty routine round "modern yet classic with a hint of cool". She loves timeless essentials and is never afraid to take chances. She combines colors, textures and avoids getting stuck in the fashion rut. The multiple award-winning actress lays emphasis on getting her eye make-up right. No wonder she always has this soft and sensual look. Whether it's showing-off her great legs or highlighting her slim waist, Genny does know how to make the most of her figure.
Omotola Jalade Ekeinde
Omosexy as she is fondly called, is the drama queen of nollywood and the 'mistress' of mixing unexpected styles to suit her taste. She never blends with the crowd and the stars stands out with her simple but elegant look. Omotola loves making a fashion statement with loud and bold earrings but when it comes to make-up she prefers going mild. However with stand-out dressing and right accessories, this sexy diva loves to let her hair down and brings a bit of drama to the red carpet.
Bukky Wright
This actress with a flattering figure, always looks sleek and sexy but not overtly. Bukky is known for her mature and womanly dressing and you need no soothsayer to tell you that she has access to designer's clothes and a pricey stylist.
Her love for gold jwelry knows no bounds and she makes every piece chic and pulled together. However the beautiful actress knows when to make a great statement on the red carpet. Most times, she is clearly covered up, adorned with gold jewelry and a red pout, which adds to her elegance.
Stephanie Okereke
This multi-talented actress' style can best be described as elegant sophistication with a high fashion flair. Stephanie loves to experiment with the edgier look and she always looks all feminine. She is known for her mature and graceful dressing which she achieves by choosing pieces that reflect her graceful demeanor. The show-stopper loves dresses that give her a regal mien. Her dresses scream "all eyes on me". Stephanie sure knows how to choose the right accessories for the big nights too.
Ini Edo
According to the style suicide act of 1961, suicide is an act of intentionally ending one's own cleavage cycle. Haba! What fashion statement are you making with miserable tits. You have been found guilty of maliciously making the life of your milk factory unbearable and the law states clearly that a person who aids, abets, or procures such ill treatment in the name of fashion shall be liable on conviction to a term of imprisonment. You're hereby found guilty and sentenced to 12months at the Kirikiri maximum prison.
Kate Henshaw Nuttal
If there's one thing most movie stars have, it's a beautiful bright smile and Kate has it. Her pearly white smile is a delight to the paparazzi on the red carpet. Her love for the Ankara fabric is obvious and she comes out with stunning mix and designs of these fabrics. She's got a great shape and she has been consistently glamorous everywhere. Kate, whose first love is white, is now beginning to experiment with bold colors like red, orange , green and what have you.The fantastic actress knows how to balance her looks with the right accessories and she has an eye for beautiful cocktail rings. Sometimes Kate might be caught in a low-key look but she's still got the glam factor.
Uche Jumbo
Have you seen Uche lately? Right now, she is the daring vixen with her new look. Uche struts her stuff with her new super model look on the red carpet. Her body now looks stunning, ravishing and healthy. The star actress who loves dresses more is one of our fashion darlings because she really does look unpretentiously pulled together, and utterly chic. If you are a plus-size and want this look, Uche is certainly proof that you can have your desired look. Stop lusting over that figure, do something quickly and get a healthy fitness plan

Uche Jumbo

Bukky Wright

Omotola Jalade Ekeinde

Genevieve Nnaji

Kate Henshaw Nuttal

Stephanie Okereke

Ini Edo