WHEN HDI BROUGHT SUNSHINE TO WIDOWS LIVES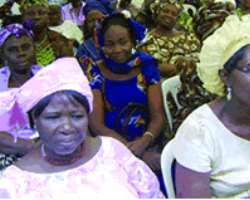 Even though they are widows, they did not betray a sad mien. Rather, they had come to celebrate their newly acquired status as entrepreneurs as well as exhibit their handiworks at a weeklong workshop organised by a group, the Human Development Initiatives (HDI).
During the 'Widow's Day Exhibition of 2010 Life Skills Products of Women in Lagos State', held at the group's office in Iwaya, Yaba, the women also entertained guests with drama sketches and songs.
While welcoming guests to the event, the organisation's Chief of Programmes, Mr. Yinka Akanle noted that the day was meant to celebrate widows and also appreciate what they had produced. He disclosed that about 30 widows were trained in various life-sustaining skills to enable them face life challenges.
He further explained that the organisation helps vulnerable members of the society, especially widows, by defending their rights, as well as contributing to their wellbeing through capacity building.
'Loneliness, anxiety, hopelessness, depression and attempted suicide are what widows grapple with daily. That is why the organisation organizes life skill trainings and workshops to help them cushion the effects of widowhood. The women were trained in soap making, beading stringing, hat making, disinfectant and stove thread production. We also monitor the progress of those who have benefited from HDI's empowerment programmes over the years and the various businesses they have set up. That is why this event is very important to us and significant to them. We are mainly here to showcase the women as capable people.
'HDI also organizes sensitization workshops for widows on how to safeguard and promote their reproductive rights. We also encourage the formation of widows' support groups in churches, markets and mosques to increase public awareness on their plight, as well as acquaint them with the various forms of justice available. Annually, HDI conducts life skills training designed to expose them to income-generating ventures for economic empowerment. Aside the training, they are also taught to manage small scale businesses and keep accurate accounts for profitability,' Akanle stated.
In her message of hope tagged, What Can Make You Smile Again, Mrs. Funsho Owosanoye, also a staff of HDI, urged the women to accept the deaths of their husbands in good faith and move on with their lives. She also advised them to develop self confidence, be prayerful and think positively about life.
Educating them on the importance of good health and good hygiene, she urged them to be sociable in a moderate way to avoid depression, even as she advised them to prayerfully consider the issue of marriage, if it ever arises.
The medical practitioner laced her speech with copious quotations from the Book of Proverbs in the Bible.
Said she: 'A wise and virtuous woman has a gracious tongue, recognises her limitations and is accomplished. A wise woman is firm and decisive with herself and children. But to be wise, you must first love yourself, children and neighbours. People must offend and disappoint you but forgive and learn to love. Renew your mind in what is good, true and godly.'
National Director, SOS Children's Village, Nigeria, Dr. Shambhain Mutty, catalogued the strength of women as homebuilders and torchbearers.
She recalled how, for 29 years, her late mother single-handedly sustained the family. 'Today, we are all accomplished in our fields of endeavours,' she said. 'Circumstances forced my mother to be a widow. I was 12 years old, while my siblings were eight and 16 when my father passed on. We were shattered by his death. For 29 years, she held the torch in our home without her husband. What I am today is because my mother made me. She gave me the value system. Only a woman can hold forth like this. Women are powerful. I bow my head to all of you. I am proud of you,' Dr. Mutty stated.
Mrs. Oluwatosin Akeju, a mother of three from Ondo State was among the beneficiaries. She learnt to make soap, bleach and disinfectants and hope to sustain her family through earnings from the venture. The widow, who lost her husband to a motor accident in April 2009, disclosed that life has not been easy. She has high hopes that with time and money, she would own a thriving enterprise based on the skills she learnt.
'I am grateful to the organisation for this free training. I don't think I could have afforded the training. My prayer is for God to give me enough money to expand,' she stated.