I WON'T PROBE ONI – FAYEMI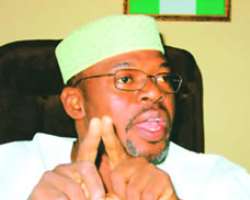 Newly sworn-in Governor of Ekiti State, Dr. Kayode Fayemi has promised not to probe the administration of the ousted governor of the state, Segun Oni.
Fayemi made the statement on Sunday while addressing the congregation at Saint Patrick Catholic Church, Ado-Ekiti, during the thanksgiving service of his victory at the Court of Appeal.
The Governor, however, said that sinners would not go scot-free, noting that God would guide him on how to go about it. According to him, 'I have not come to hate or retaliate, but the Lord says sinners shall not go unpunished, but God will guide us on how we are going to go about it,' Fayemi stated.
The governor charged the people to give him support so that his administration could deliver all the promises made by his party, Action Congress of Nigeria(ACN). He reminded the people of the state not to expect him to solve spontaneously, the numerous problems bedeviling the state because he's not a magician. He added that the concerted efforts of the people would work like a magic wand to move the state forward.
'I am not a magician. I will fulfil all I have promised. But we must join hands to succeed. There will be a new Ekiti,' the governor said. In his sermon, the Bishop of Ekiti Catholic Diocese, Bishop Femi Felix Ajakaiye warned the new governor not derail, advising him to be truthful and always ask for God's guidance and wisdom.
In his sermon, Ajakaiye delved so much into the second reading of the service, read by the governor in Yoruba in 2 Timothy 3:14-4:2.