WE WILL NEVER MAKE COFFINS FOR OUR LOVED ONES – CASKET MAKERS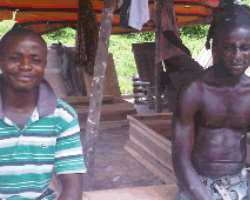 The coffin makers
Coffin or casket, they are two words that mean the same thing. Just the mere mention of either name sends jitters. Interestingly, its place in burial is almost as inevitable as death itself. Yet very few will like to touch it with a long pole.
But for Emeka and Kalu, both brothers, making caskets is merely putting wood together as well as a means of eking out a living. If fact was learnt that one of them once took a nap inside a coffin: 'What we see is not coffin like you see, we just see wood. Ok, what of people who work at the mortuary? What will they do?'
About two years ago, they arrived Abuja from Ohafia, Abia State, as furniture makers. After few months with their boss, they both agreed to try out making coffins as a way of survival. At their workshop in Karmo, a suburb of Abuja, Emeka and Kalu said they have grown to assist each other depending on who gets the job.
This work we dey do no be say we like am so much. Money no dey insid, the two brothers chorused when they spoke to Daily Sun. To them, it is just a means to an end except they are able to raise money to make it a big business. A coffin is sold as high as N180,000 and as low as N25,000 depending on the materials used.
Can the coffin be sold on credit?
'How can? The only thing is that we fit reduce money and we know the materials to use.'
That means that unless people die, there won't be business for the two brothers. They agreed: 'Yes. But I don't pray for people to die. And if they die they must be buried but I am not the one that kill them.'
They also get paid as undertakers at burial ceremonies where they get extra money, they wouldn't disclose the amount, though. Coffin business too has boom period. As the brothers put it, in January, February and March 'our business is usually very high.' Kalu said that it is a period when burials are fixed because of the weather condition.
It was learnt that it takes an average of five days to complete a piece of coffin and fewer days if the would-be buyer pays by express: 'We will work over night and bring more people inside to work with us.'
Asked if Moslems also patronize him he said 'yes now. Moslems buy too, but they sell it again after the burial because they use it to transfer dead body to their villages. Some just burn their own.'
National Hospital racket
They revealed there is a racket that manipulates the business at the National Hospital, Abuja. According to Emeka, 'you have to settle some people so that when people need coffin they can give your number.' He did not say how much is usually given but insisted it happens. So why does he have to settle? His response: 'I never get the connection.' The two brothers also said the women in their lives like the business and have no problems with it.
Emeka, however said emphatically: 'I will not allow my children do this kind of business. The suffering is too much. Oga, I don't really like the business because I cannot be happy when people are sad but that is the way it is.'
Their mother was said to have raised eyebrows when she knew that her children are making coffin: 'Our mother is not happy when she came here. But she blessed us and said we should look for something better.' Will they make coffin for their relatives? 'No.' They also said they have never had the challenge of making a coffin for any of their friends or relatives. The duo said Yoruba and Igbo buy the most expensive coffins.