WHAT MAKES THE CUT? WHO MAKES THE CUT?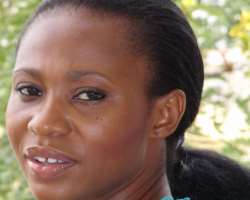 I love the white man. At least in his country I can be guaranteed constant internet. Thank God for small mercies. In Burkina Faso. Found internet working in this hotel and I can cause some more havoc.
Nigeria films is getting known for its intolerant readers. The abuse and the insults and the name calling and speculation. Once you criticize something you are called a hater. One cannot give an opinion on matters again? The more this goes on the more writers get their tongues padlocked for fear of insults. I have been learning of late to tame my tongue but still say it as it is.
someone did a poll and listed the 10 best actresses with Genevieve Nnaji topping the list and (at the risk of vomiting)Tonto Dike also made the list. How much did she pay? Tonto Dike is not even an actress. She is just a sex object for men to buy CDs and a barbie doll for women to envy. She can't act if her very own life depended on it. Genevieve Nnaji is the most famous person in Nigeria but she is no way the best actress. All this immature sentimental voting and name calling and insults that seem to generate anywhere the name Genevieve Nnaji is mentioned or anywhere anything she is associated with is mentioned is simply a mark of childishness. Tonto Dike is the worst actress after Chika Ike and others whose names I choose not to remember.
You people know I will always say it as it is. Here is my objective list of the top ten best Nigerian Actresses. To qualify, the actress must have been in the industry for long and must have played a character we all can remember her for, laugh, smile or cry about.
1. Omotola Jolade Ekiende: She is the best actress because you never see the same Omotola. She presented another Omotola in I belong and presented another woman in Out of love. Omotola is a versatile actress. She characterizes her traits and does not have her own catch phrases. She defines each character differently. she is a very believable actress.
2. Bimbo Akintola: Need I say more? She is a solid actress. I remember her mostly with RMD in Out of Bounds. She chooses her movies very carefully is what I really like about her. She needs to do a bit more though.
3.Rita Dominic: I am not sure why she is number three but she is. Rita has class but she knows when to hide it for the character. In All my life, i did not see the glamorous Rita, neither was she there in spirit of love. Rita knows when its all about the movie. when she gets a character, she lets it all go. Sometimes the fashion is too much and the make-up in the city movies is also a bit too much.
4. Chioma Chukwuka: Azimah. You see her soul when she is acting. When is being a naughty girl you see it. A mean wife, a good wife. she bares her soul. of late she has been making some boring choices in movies. Choosing un-challenging roles.
5. Genevieve Nnaji: The most solid film I can remember Genny for is Sharon stone. But, she has played many lovable characters in films like super love, prophecy, emergency wedding, keeping faith. In those movies, she stripped to a raw actress. over the years, she has become cold and predictable. When you pick up a Genny movie, you know what to expect depending on the story. That is not a good trait.
6. Patience Ozokowor: Who does not love mama G? but her performance in Annabel is what makes me give her respect. Patience also knows when not to be a bitch. There are moments when knowing what she will do makes her performance predictable, but who can blame her?
7. Franca Brown: I don't want to cross this woman. I can't find fault with her. I have never seen her play anything tame. But I know she can because you see her range in every character she plays.
8. Stella Damasus: Honestly, she is on the list because she a memorable performer. i can't say I can remember a particular movie I remember her for which is dynamic, but I remember alright. Widow might be mentioned, but I did not particularly like that film. Stella is a great actress when she lets herself in. I loved her in submission I must say. She has made some bad choices with movies, but she is still very good.
9. I almost thought that Joke SIyva could do only city movies until I saw her in white waters. Then in womens cot. Strong deliverer.

10.Clarion Chukwura: Maybe a bit too over the top sometimes, but you can never go wrong with Carion. the movie I tolerated despite Chika Ikes presence was because Clarions was in it. The movie everything We touch. Someone to learn from.
Liz Benson should have made my number 1 with Uche Ama Abriel and Edith Ayalogu 3rd and 2nd respectively, but they are not acting anymore.
my Honorable mentions are Maureen Solomon, Thelma Nwosu, Ini Edo, Kate Henshaw Nuttal, Mary-Ann Appollo, Nse Ikpe, Ngozi Ezeonu, Rita Edochie, Jennifer Eliogu and Chinwe Owoh.
The place of honor goes to Onyeka Owenu. I respect this woman in so many different ways. She is what we'd call TOO MUCH.
Fans of people who did not make the list or are at the bottom of the list, please exercise some maturity. Also be objective. No name calling. The fact that someone is not on the same page with you does not make the person a hater. We all have different tastes and we also have freedom of speech and democracy. Lack of tolerance is why we have had issues like Rwanda, Sierra Leone and Liberia. I am getting tired of the insults and abuse. I know I am among the many writers go receive this, but it is getting very tiring.
If this does not dissolve into chaos, the Actors, directors and the list from Ghana will follow.