WOMEN EMPOWERMENT AND LEADERSHIP CHALLENGES IN TRADE UNION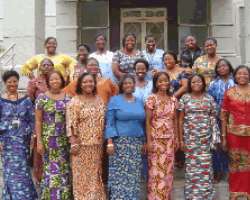 Nigerian women have for years suffered injustices and marginalisation as a result of cultural disabilities, which has affected their activities in many fields of endeavour including their participation in trade unionism. History has shown that at the inception of Western education in Nigeria, most parents were reluctant to send their female children to school or to acquire skills in other trades because of the traditional belief that they would end up in other men's houses as wives.
This ugly perception about women's position in the society has since undermined the capabilities and potentials of the women and has resulted in the retarded growth and development of our society without the exception of the trade unions.
As noted earlier, the evolution of paid employment resulted in more men working in organised settings, thus aiding them to acquire and garner experiences and knowledge over the years; and this also worked to their advantage in the trade unions. Basically centred in cultural setting, Nigerian women over the years were not heard. The process of socialisation through upbringing was such that women were not allowed to express themselves, and the issue of schooling was not even encouraged.
Though women have demonstrated considerable leadership, according to Beijing Platform for Action (1995, paragraph 183), in community and informal organisations as well as in public office, socialisation and negative stereotyping of women, including stereotyping through media, reinforces the tendency for political and other decision making organs to remain the domain of men. The err01eous description of won1en that 'the physiology of women naturally made them timid, feeble and unable to think because they have smaller brains than men do' has also not helped matters. The implication is that though women have demonstrated considerable leadership skills, they are yet to impact the society and trade unions in particular.
In spite of all these, women have shown keen interest in trade unionism. But just as they are clustered in the lower cadre of the profession due to the masculine procedures, so is their participation limited by male dominance in trade unionism. The few women found in the decision making category of the labour union leadership are only a token representing women in the dormant posts.
For example, in most unions, they serve as Treasurers, just because they are believed not to have the tendency to embezzle funds, and can be easily marginalised when important decisions are taken. Moreover, as a minority, they can never make an impact in a democratic situation. It should also be noted that the constraints of their multiple roles prevent them from being members of informal male networks where issues and decisions are discussed and taken, respectively. Those who managed to get into functional positions like President, Secretary, etc get there as a result of trade off, which is not good enough.
The recommendations
To address the problems facing female workers and to strengthen their participation in trade union leadership, the following are recommended:
1. Carrying out intensive researches, surveys and collecting information about women in work and labour movement and publicising the findings.
2. Conduct activities to make the trade unions more gender sensitive.
3. Identify women/gender problems at the workplaces and launch campaigns to resolve them.
4. Conduct various activities to develop the leadership qualities of women in the labour.
5. Ensure women's equal access to and full participation in power structures and decision making.
6. Develop education and awareness campaign specifically for female workers.
7. Increase women's capacity to participate in decision making and leadership.
8. Educate male trade unionists, husbands and family members to assist in greater participation of women in trade unions by taking responsibility for household and other family work.
9. Trade unions must discourage the formation of female chapters (wings) which only help to isolate won1en to looking at gender issues, rather it should ensure that the rules and regulations favour active female participation in their union activities.
Conclusion
The trade union is a body that has the masses' interest as the foremost goal. Women have the rare privilege of being endowed with extra energy to multitask (mother, wife, sister, worker, etc.) at the same time. With wisdom and persuasive ability that they possess, they should reach out and break the jinx of fear and go for the trade union mantle of power. Women should not only be members but key players in trade unionism.
It must also be appreciated that trade unions' basic principles of equality, fairness and justice will remain difficult to achieve as long as the leadership structures continue to be unrepresentative; and women's interests and/or issues continue to be marginalised. The fight to build a strong democratic and egalitarian trade union movement cannot be fought without the voices, skills and experiences of women workers.