OSAZE'S WEST BROM TACKLES MANCHESTER UTD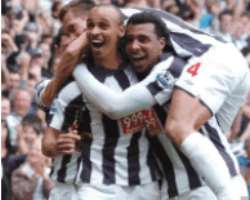 Osaze celebrating with teammates
Manchester United, at home this weekend to West Brom Albion, would be looking forward to having a win over their opponents especially as the Nigerian terror, Osaze Odemwingie, would not be on the pitch if his injury is anything to go by.
The new kid on the bloc of West Brom, since joining the English Premiership, has remained a torn in the flesh of all opposing teams with no respect for the big teams. Without any fears this a one game that Osaze had looked forward to in carving a niche for himself in the Premiership. With his club standing 6th on the ladder before the FIFA free weekend, a draw for his side will go a long way to boost the confidence of the players and take them to 12 points which would not be good for the fans of Manchester United currently 3rd on the table with 13 points from 7 matches so far.
However, the big match of the weekend is the Aston Villa, Chelsea fixture that would pitch Nigerian born Gabriel Agbolahan against a rampaging Chelsea still leading on the table with 18 points from seven matches. Chelsea having had a comprehensive 2-0 victory over Arsenal at Stamford Bridge is not ready to let go their stranglehold at the top and would bank on their talisman Didier Drogba to do the havoc again against Villa.
Just like last season the mobile, powerful and impressive Agbolahan who worried Chelsea early on with his acceleration would be out again to bother his opponents in the vital area. This game will no doubt be a tall task for Villa standing eight place on the league table where Chelsea still reign supreme.
Though, Dickson Etuhu was not part of the Super Eagles team that lost to Guinea in Conakry, he would be on duty this weekend as Fulham face Tottenham at home.
Etuhu, who scored his first goal for Fulham on Easter Sunday 2009 in a game against his former club Manchester City in the 59th minute to put Fulham up 2-1 after a goal from American Clint Dempsey in the 50th minute says he is ready to keep his name up with a good performance this season and with goals on his mind to help shore up points for the club who are currently 10th place as against Tottenham's 5th position.
Bottom placed West Ham parading Nigerian striker Obinna Nsofor are in for the fight of their lives as they go away to Wolves who are ready to make mincemeat of them if for nothing else but to remain atop of them. Both teams are placed at the bottom of the ladder and only determination would see West Ham upstage their host this weekend.
Everton striker, Yakubu Aiyegbeni is still battling to find his form in the premiership since returning to his club from the national team at the World Cup. In fact, his form has dropped so much that his stay in Everton might be threatened unless he picks up in his game against Liverpool who are plagued by the troubles of a take over.
Under pressure coach of Everton, David Moyes is challenged by Yakubu's poor showing so far which is fast proving that the Toffees are in for more troubles if they can't improve their points this weekend and take their points to 10 if they can help it.