VIDEO: Ghanaian Actress Selassie Ibrahim Exposes CEOs In New Movie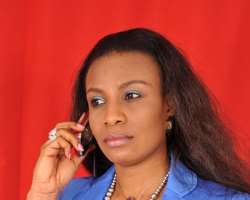 It may surprise some to know that a good number of movies coming to the Ghanaian movie market nowadays are directed by Nigerian movie directors. Some few months back one of the most respected Ghanaian producers openly said he prefers using Nigerian directors than the Ghanaians because, the latter are sub-standard.
Well, the above explains the new trend now. It is no surprise that the direction of the new movie 'The CEO' was trusted in the hands of two experienced Nigerian directors, in the persons of John Inzedomi and Afam Okereke.
This movie has lots of lessons to be learnt, especially to career women or women who are in the corporate world. The fact that you starve your husband sexually doesn't mean he will jump to the next girl and cheat on you. When a man is not cheating but then he is constantly accused of cheating, the idea of cheating, which is a seed, is then planted in his mind. Though, this does not apply to every man, majority will fall for that.
'The CEO', a movie from the stables of Smarttys Management & Production Company is a story of Gloria Lee (played by Selassie Ibrahim), as a CEO. An uncompromising, meticulous, principled, demanding and unfriendly woman, who is set to prove to everyone that she can go beyond public expectations of a woman. Gloria is married to her job. She is one hell of a busy woman. She prefers to work at home when she finds herself not doing anything.
Gloria is an annoying character who doesn't have time for her family and anything. She is so much in love with her job that their intimacy life was virtually non-existent. Gloria won't make love to her husband and if it happens, it means she wants it. Besides all this, she still has a third eye on the husband, as if he's cheating.
As if she was married to her job, it was not only her family who were privy to her annoying behavior but her workers also. Working with her is hell itself. She had the penchant for firing her workers at the slightest mistake. There is no second chance in her dictionary.
At her work place, all her workers are constantly under pressure not to err because if that happens, there is no turning back; YOU WILL BE FIRED! Gloria assumes that her workers should be just like she is.
One of her workers Farida Alhassan (played by Nadia Buari) was faced with the choice of sticking to her job to the detriment of losing her demanding boyfriend (James Gardner). Though she is not ready to make any choice, she went through hell to satisfy both parties. The boyfriend's attitude is so annoying and can force a lady out of any relationship any day, provided she doesn't have any problem of losing the so called Mr. Right.
Even when she was in a steamy lovemaking ecstasy with her fiancé and in the middle of climax, her boss interrupts them with a phone call. This and other calls are weighing heavily on her neck that it seems like she is about losing her soon-to-be-husband.
Later in the story an argument ensued between Gloria and her husband Larry Lee (Desmond Elliot). She accuses him of sleeping with his actresses. Nothing the man said was taken. The argument got worse and he was told to get out of their home, which he complied.
Two sacked workers then hatched a plan to kidnap Gloria's daughter and demanded an amount to be released. This idea is to pay Gloria for sacking them from their jobs. The plan worked perfect.
The kidnapping was like the solution to her heartless lifestyle. Why should one wait for something bad to happen to him or her before the person changes the lifestyle? Gloria went through hell with the support of the husband. The police come in to track down the two down with a tracking device which was placed in the money suitcase. The device shows on the computer the exact place of the kidnapers.
***** Honestly, some of the scenes were bit dragged, I hope Selassie Ibrahim will not insult us again with over elaboration scenes in her next movie. But I recommend this movie for all the CEOs, especially to women who are married and want to keep their husbands and make time for their homes.
What does it profit a CEO to gain wealth and without a family (husband and daughter) to enjoy with? The movie is schedule to be premiere on the 23rd of October, 2010 at the Golden Tulip Hotel. The event is STRICTLY BY INVITATION.
Also I will be glad if a copy of this movie can be sent to the Inspector General of Police. I think it's about time; Ghana police needs to be abreast with modern day gadgets to track down these heartless kidnapers, armed robbers among others.
The movie blends a wonderful cast, including some of the crème de la crème in Nigeria and Ghana's movie industries. It featured Selassie herself and her daughter Maleeha Mahama, Desmond Elliot, Roselyn Ngissah, Nadia Buari, Ekow Blankson among others.