After 19 kids from 7 women, Lebarty marries first wife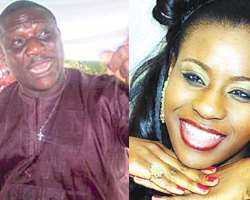 Twenty-five years after fathering nineteen children from seven different women, the self acclaimed lover boy of the Nigerian music industry, Felix Lebarty is married.
He wedded Rosemary, mother of his first four children (two boys and two girls) in a private ceremony that was attended by his children and close family friends.
The marriage according to 24 year old Ivie Lebarty, his first daughter and a Church worker at the UK branch of the Christ Embassy Church 'was initiated by us the children'.
'We felt there was need for our father to make good his claim that he had received Christ in his life by marrying our mother. And he did just that to the glory of the lord.
And as you can see we are home in Nigeria today, to celebrate a reunion between our dad, mum and my little baby who is officially my parents' first grand child' and elated told Showtime over the phone.
A remorseful Felix Lebarty who also spoke to Showtime over the phone said he had no apologies for fathering children from different women stating that, 'they are the beautiful gifts God gave to me'.
But the Benin, Edo state-born musician who shot into national prominence with the release of his debut album on Tabansi Records titled Lover Boy which included the hit track Ngozi has one regret, his inability to provide love and care, financial support to his children.
"My regret till dates is my inability to provide, love, care and financial support to all of my children and this hurts. Every time I see them, I always beg for their forgiveness because of my shortcoming."
Sober and humbled by his past mistakes, a repentant Lebarty disclosed that "when a man goes against the tenets of the Bible that he marries only one wife, destruction awaits such persons at the end of the day.
But I thank God for pulling me out of the pit of destruction and giving me a second chance."
Continuing, the born again musician, who pastors his own Church, warned the youth against towing his kind of lifestyle stating that those, who live a Christless life would definitely end up with life in crisis.
At the peak of his fame this reporter recalled, Felix had four children from Rosemary his first love, three girls from his affair with Mary (a set of twins and a girl) and three boys from his affair with woman number three, Unoma.
Unoma was the lady that featured in the Ifeoma video and the woman responsible for the break up between the musician and his first love Rosemary.
Felix also had relationship with Auchi, Edo State born Cordelia (which produced a boy and a girl) and Adesuwa who had a son Destiny.
Unfinished yet with his philandering, Felix also fathered children by Zainab who produced a boy and girl, and finally Helen, who brought up the rear with four girls.