Baby food wahala! Pero fights 2Face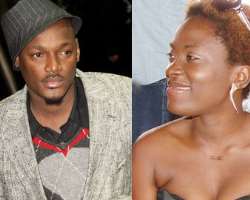 In what observers dubbed 'baby food wahala', Pero Adeniyi, the celebrated mother to three of the children born to Nigeria's musical ambassador and multiple awards wining act Tu Face when she reportedly threw caution to the wind and physically attacked and implicated Nigeria's brand ambassador.
The show of shame as reported on the website of Akpor Gnemre's entertainment biog. 411ham happened on the evening of October 7 at the departure wing of the Murtala Mohammed Airport 2 when the star musician was about boarding his flight to an undisclosed destination.
In a move that took everyone by surprised an obviously waiting Pero allegedly sprang from now where and before the airport security and the musicians aides could stop her, grabbed the shirt of the man who has come to be known as Tu Baba to his fans and friends and a scuffle ensured
Although no one could ascertain the cause of the fight, close friends hinted on issues bordering on fatherly obligations which the star was accused of reneging.
It will be recalled that Tu Face had allegedly told friends that his relationship with Pero, daughter of business magnet Prince Jide Adeniyi that there was no future for both of them, a story Pero also corroborated in an interview she granted a soft sell magazine.
It took the intervention of the security agents at the airport to put the situation under control.
Both parties and their entourage were later dragged into the security office to resolve their differences.
Pero Adeniyi is the daughter of Chief Jide Adeniyi, a multi millionaire businessman and chairman of Poatson Group of companies, has three children which includes a set of twins (boys) and a daughter for the Benue State born Super star.