Culture bane of Kannywood – Sanni Danji, Hausa actor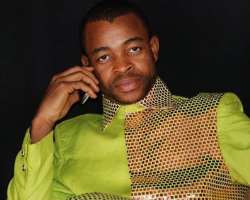 Sani Musa Danja is a household name in the Hausa movie industry. A prominent member of Kannywood, Danja, who is Chairman, Guild of Artists in Northern Nigeria, got the Afro-Hollywood award as Best Hausa Actor in 2007. He's equally a Glo ambassador. He spoke to BASHIR ADEFAKA during the week in Kaduna.
Excerpts:
When did you start acting?
I started acting about twelve years ago.
Why did you choose acting as a career?
First of all, I'm a musician and when I started my music I was very young. Later I developed an interest in writing stories, which at the end of the day motivated me to become an actor.
Singing or acting, which do you prefer?
I prefer music but acting has given me fame. I was into music quite alright, but it didn't bring me to the limelight until I started acting .
What are your challenges as an actor from the North?
The challenges are enormous, especially when some of our people perceive what we are doing as not being part of our culture. But we try to tell them that the world is changing and there is need for us to move with the trend, using the modern technology to promote our culture. But our people would not see reasons with us.
Even some Ulamas have to go to the extent of using the media to say all sorts of things about us particularly when they notice some shortcomings in our productions.
Dialogue, they say solves a lot of problems. Have you sought audience with both the government of the state of your base and the Ulamas to iron these issues out ?
You can do that only with people who have listening ears.
So many of these people who are criticising our movies rarely watch them. But once they hear any negative things about us, they will believe it hook, line and sinker. They watch only a part of our production, and conclude that our works are bad.
A typical Hausa man will not want to listen to Hausa music, prefering instead to listen to Indian and American music. My kinsmen have a way of downgrading our local music. If you go to a night club in the north where they are playing Hausa music , people there will protest, insisting that they should play foreign music for them. It's that bad. Where as, we use these movies to convey messages to the public.
Our scripts sell our culture, religion and costumes to the world through these films. Though we act and dance, we dance to our own songs and tunes. While we adopt Arabian or Indian beats, we sing in Hausa and so many people in the outside world are now buying it and they appreciate our music.
I was a victim too until I started buying the subtitled ones.
You see, it's a gradual process. Hausa films are the most decent films in the whole world, I tell you. Just go and conduct your research. In Hausa film, we don't romance, we don't kiss; we don't touch a woman, even if she's your mother.
Go to Arabian countries; they produce movies where they hug, they kiss. Yes, the Arabs produce their own music and they are Muslims but, Innama li amali biniyat (all your deeds are judged based on the intention with which you do them) And my intention is for people to know: it is for people to become educated, it is for me to send a message, to entertain people.
But you seem not to have related well with the media?
You are very right and I can't deny this. Sometimes an actor feels like he is media friendly but it's very wrong to think so. We realised the mistake later when we ran into problems with the Kano State government.
Do you understand? But the most amazing thing about us is everything we do, people must criticise us. So many actors in the north distant themselves from the local media because they feel the media guys are interested in writing negative things about them That's why the artistes see the media as their enemy.
But we later realised that because we are part of the media, we have to co-operate with them. No matter how well we are doing, if you don't sell it out, nobody will know what you are doing.
How do you mean?
For example, I am the first Glo Ambassador from the north. King Sunny Ade, whose music I love to listen to, represented the Yorubas and Sunny Nneji represented the Ibos. We were the first three Glo Ambassadors before D-Banj and others came on board. My name is everywhere but I still need to enjoy media support.
Now we are trying to launch into the Nigerian movies industry. I told you that music is my first priority. I am working on my new album which hopefully will feature the likes of 2face and 9ice. You know they are my friends.
By this album, I'm not only targeting Nigerian market. I want to hit the world music scene. We have the resources, everything, so we want to repackage ourselves and this is the reason why I really need the media.
And, in fact, I am using the Saturday Vanguard medium, to tell other artists; whether you are a producer, a director, an actor, a company captain, a shareholder that you need the media to succeed in your business.
What was the reaction of your parents when you told them of your intention to go into music?
My parents are very liberal people. They would say no matter your calling, you must go to school. I don't have any problem with my parents, they are have understanding with me and so, everything is going smoothly.
How many films have you produced so far?
Plenty. I am one of the actors that have produced the highest number of films in Nigeria. Before I was involved in a motor accident, I could spend six months producing films and moving from one location to another.
Six good months: I would sleep in locations, eat there, and dress up on locations… After my accident I took a long break because I could not produce films as I used to do. All I knew was that when I was ready to resume acting and production, I would shoot a movie that people would appreciate. And that was what I did with Sai Na Dawo.
Is the accident responsible for your limping?
I needed to show the world and my fellow artistes that even if you are physically deformed, you can still make it.
The accident left me with fractures on my laps and my hands. In all, I had four fractures and I was hospitalised for about two days. I also tried local medication and that left me bedridden for more than a year.
A lot of people at a point thought I had died, until I broke the silence with my movie Sai Na Dawo. It means 'Till I Come'.