POOR NORTHERNERS! (1)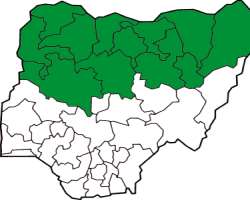 "Why do they hate us so much?" was the text I received from someone who read the comments from some Nigerians of southern origin at the bottom of my article 'The Advancing Violence' in Sahara reporters last week. In the question, 'they" connotes such Southerners that are fond of making hate comments whenever a view is contrary to theirs is expressed, while "us" means northerners. That was not the first time I received such an inquiry. Many northerners, if you will permit me use the term just for the purpose of this discussion, continue to wonder why they have been targets of hate speech by some people in the press, especially on the Internet where people can hide behind fake names and publish anything unfiltered.
Since the advent of Jonathan's presidency, we have returned to the olden days where northerners are collectively lampooned and criticized for many things. The words "North" and "Northerners" are used at different times, by different authors and for different motives to mean geographical North, the so-called core North or the Muslim North. The victims also vary: some northerners like Christians and so called minorities are occasionally spared. Others – like the Hausa and Fulani Muslims – receive a full dose of the venom any time the North is mentioned. They bear the brunt whenever something goes wrong in the country. The last group also receives some 'koboko' from other northern whenever religion is involved. They are collectively described in such hate commentators as lazy, corrupt, inept, arrogant, illiterates, selfish, reactionary, retrogressive, beggars, parasites, incompetent, mumus, etc. Added to this, especially after 9/11, such commentators say they are Muslims who adhere to Islam, the religion of terrorism that calls for killing others and is against democracy, liberty of freedom. The South should break, wrote someone, "and become like India" while the North remains backward like Pakistan."
I have tried for the purpose of balancing to find similar accusations of Southerners by northern writers in the conventional press or online but I cannot find any! That means if there are some, they must be very few. I cannot also remember any northerner saying Southerners are this bad thing or another even in the heat of the ongoing zoning debate. (Perhaps, it is for the lack of such labels from the North, in 2005, someone had to publish an abusive article against Southerners in Amanaonline website using my name at its author just to tarnish my name among them. That year, I also received some hate mails purported to originate from Mohammed Haruna using another fake email. Neither Mohammed nor I bothered to reply them.) I am, therefore, compelled to restrict myself in this article to only what is said against northerners. Interested readers can go to the comments posted at the bottom my last article in Saharareporters and other similar sites.
Let me start by handling the issue of corruption because it is the mother of all accusations. Take for instance what Sunday Kayode said in reaction to Discourse 305: "All leaders that came from the North are thieves. Where did you get your Dr from…University of Maiduguri? Idiot." I assume that Mr. Kayode is an educated person since at least he knows there is a university in Maiduguri. If Kayode was abusive in his language, another reader was very civil, though he implied the same thing: "Are there no other better candidates from the North apart from IBB, Gusau, Atiku and Saraki?"
Both readers were not fair to the North. The North did give Nigeria a number of credible people. It forwarded Tafawa Balewa during the First Republic as Prime Minister. No one has ever accused him of corruption. Then there were also Murtala and Buhari, none of them to the understanding of Nigerians exhibited any corrupt tendency during their brief tenures. Added to them are Gowon and Shagari, who are also saints by today's standard. The two led Nigeria during periods of oil boom but they did not leave office with 1% of the wealth stolen by Cecilia Ibru. They were not strong rulers, agreed, as they allowed many to loot the treasury unchecked; yet, they cannot in their person be accused of corruption. Let us recall that all those who celebrated their first one billion naira during the Shagari era, people like Chief Akinloye, were southerners. On the other hand, the entire rice importation for which the much demonized Umaru Dikko was supposed to make his money was just about N200million.
Now let us come to those on whom corruption charges justifiably hang: Babangida, Abacha and Abdulsalami Abubakar. I cannot defend any of these three. But if we look at the South, we realize that it did not produce many angels better than the three. Obasanjo was extremely corrupt, as we have seen during his eight years tenure. People speak of missing $12billion dollar gulf war windfall during Babangida but they hardly say anything today about the $16billion stolen during Obasanjo's administration on electricity projects alone. Members of various southern discussion groups must have read the recent damning article on Babangida written by the veteran journalist, Naiwu Isahon. He conceded that Obasanjo was worse than Babangida when he opened his latest article by saying, "Apart from Obasanjo, Babangida is the greatest evil ever to befall any country in the world."
The scion of Obasanjo, Jonathan, is now proving to be like father like son. The corruption tales of his short tenure so far are damning, that is not to mention his brief tenure as the Governor of Bayelsa State from which his wife is investigated for. Now that the PDP – the largest corruption machine in the country – is in crisis, its members who are opposed to Jonathan are telling us how our foreign reserves have been depleted by more than $30 billion in the last few months, in addition to diversion of several billions from ministerial coffers to finance projects and not to mention the corruption regarding contracts in the NNPC. I am sure we will learn more about these shortly. Some like Ojiji Omo have already reached their conclusion: "The making of a tyrant. That man in bowler hat (Azikwe Jonathan) will be worse than Abacha, IBB and OBJ put together", he said via an email published in Naijaobserver group. I hope we are not heading for the days where IBB, Abacha and Abdulsalami will be promoted to the position of angels by the sheer quantum of corruption under Obasanjo and Jonathan.
On candidates, it will be fair to say that the North has forwarded all sorts of candidates, fitting whatever inclination a Nigerian voter may have – for or against corruption. Of course, if you are for corruption, the PDP candidates from the North are there. Safe journey. If you are for transparency, you are welcome. Buhari is here. As Simon Kolawole of Thisday said recently, to his knowledge, no one has so far accused him of corruption. What would prevent majority of Southerners from voting for him instead of any corrupt candidate in 2011? Did their majority do that when he contested against Obasanjo in 2003 or against 'Yaradua in 2007? I have read some saying Buhari is old and has military background. Good. Nuhu Ribadu is here. Oya now. He is young, handsome, honest and civilian. But would the majority of the South abandon Jonathan and vote for him? Even if you say you want an honest woman President that is decent, we fit produce am. Mama Sarah Jibril is here. Ngwano, biko. Some say Buhari is 'shariatist.' Okay. Take Atiku. He has since 2001 declared himself 'shariah non-compliant' at a party in Lagos. What prevents these commentators from seeing these aspirants? I salute people like Pastor Tunde Bakare and many others who are not given to sentiments in choosing the candidates they will support in 2011.
Now, let us move to the general public. Is it true that northerners are corrupt, more than their Southern counterparts? I would not like to resort to guess work. There is an anti-corruption commission, the EFCC. Let us consult it and find out the distribution of corruption among Nigerians. It presents us with a list of fifty-four ongoing corruption cases that it is prosecuting before various high courts in the country as at this morning. I have presented 49 of them that are Nigerian in the table below, giving the amounts involved and the side of the country from which each of the accused persons hails.
EFCC, ONGOING HIGH PROFILE CASES 2007-2010
S/N
Name
Amount (N) ('000,000)
North
South
1
Ayo Fayose
1,200
X
2
Adenike Grange
300
X
3
Joshua Dariye
700
x
4
Saminu Turaki
36,000
x
5
Orji Uzor Kalu
5,000
x
6
James Ibori
9,200
x
7
Iyabo Obasanjo
10
x
8
Lucky Igbenidion
4,300
x
9
Gabriel Aduku
300
x
10
Jolly Nyame
1,300
x
11
Chimaroke Nnamani
5,300
x
12
Michael Botmang
1,500
x
13
Roland Iyayi
5,600
x
14
Nyeson Wike
4,467
x
15
Kenny Martins
774
x
16
Babalola Borishade
5,600
x
17
Boni Haruna
254
x
18
Femi Fani-Kayode
250
x
19
Ibrahim Dumuje
774
x
20
Bode George
100
x
21
Rasheed Ladoja
6,000
x
22
4 Zenith Bank Managers
3,600
x
23
Nicholas Ugbade & Co
5,200
*
24
B. Sokan & co
636
x
25
Ransome Owan & co
1,500
*
26
Tom Itseghoghi & co
15,000
*
27
Albert Ikomi
43
x
28
Yuguda Manu Kaigama
17
x
29
Chief Joe Musa
1,012
x
30
Dayo Olagunju
479
*
31
Hamman Bello & Co
2,500
*
32
Innocent Chuka Okonkwo
145
x
33
Ceciia Ibru
160,200
x
34
Dr. Bartholomew & 4 others
187,000
x
35
Raymong Obieri
131,800
*
36
Sabastian Adigwe
277,300
x
37
Okey Nwosu
95,000
x
38
Francis Atuche
80,000
x
39
Adamu Abduallahi
15,000
x
40
Attahiru Bafarawa
15,000
x
41
Francis Okokuro
2,400
x
42
Charles Sylva Opuala
2,400
x
43
Osa Osunde
55,000
*
44
Oladele Shitu
139
x
45
Sunday Akinyemi
90
x
46
T. Taniyi & Co
3,000
x
47
Adeniyi Elumaro &Rakiya
405
*
48
Erastus Akingbola
27,000
x
49
Sani & co
1,500
*
Total number of cases
10
39
Total amount (in Naira) due to North =
73,771,000,000
Total amount (in Naira) due to South =
1,098,524,000,000
Total amount (in Naira) under prosecution for Nigeria =
1,172,295,000,000
Percentage amount due to North =
6.29%
Percentage amount due to South =
93.71%
Totals =
100%
Source: http://www.efccnigeria.orgwww.efccnigeria.org
Note:
1. The list above does not include four expatriate cases.
2. Cases with asterisks involve both Northerners and Southerners but each is
allocated to the side from which the principal accused person hails from.
3. I did not include the name of Nasir El-Rufai because no amount was assigned by the body against his name.
___________________________________________________________________________
The table clearly shows that Northerners do not have monopoly over corruption, to put it modestly. We can safely conclude that Northern thieves are just small rats, accounting for only 6.29% of the total sum under prosecution compared to Southerners who account for 93.71%. The figures clearly show in whose hand the economy is. I have always held that northerners do not account for up to 10% of the Nigerian economy. That is why southerners account for 74% of the cases under prosecution by the anti-corruption agency and 93.71% of the total amount involved. Poor northerners! Despite their sad state of poverty and their poor acumen for stealing they are constantly accused of holding Nigeria back. Truly, they are lazy. But from the table above, one can see the cause of their high level of poverty. I hereby suggest a solution to them.
To ensure that they do not hold this country backward anymore, Northerners should protest their marginalization in corruption. They should demand that from Jonathan after 2011 election since he has pledged to emancipate them from the stranglehold of their corrupt elders. Mhm. He must see to it that there is an egalitarian balance of corruption across the country. As I concluded this article, another Southerner, a young chap and former adviser to Obasanjo, Mr. Adeyanju Bodunde, was arraigned by the EFCC before a high court for laundering N750million. Last week, the world was shocked at the conviction of Cecilia Ibru who agreed to return over a billion dollars worth of cash and assets. She and others did it under the tenures of the erudite Charles Soludo as Governor of Central Bank of Nigeria (CBN) and born-again Obasanjo as President. Even under Babangida when late Abdulkadir Ahmed was the CBN governor no bank director could steal so much.
I am not saying that there are no thieves among northerners. Don't misquote me. Aha. I am just saying that northerners do not have monopoly over corruption, as the authors of hate speech and advocates of a divided Nigeria would like us to believe. I am though angry that the EFCC data has proved that most northerners are small thieves. Mts. If they should eat a frog, they should look for a fat and juicy one. If they do not know how to do it, they should learn from experts like Cecilia Ibru such that the North can also be rich and northerners can own many banks and houses overseas.
(To be continued)
Disclaimer:

"The views/contents expressed in this article are the sole responsibility of the author(s) and do not necessarily reflect those of The Nigerian Voice. The Nigerian Voice will not be responsible or liable for any inaccurate or incorrect statements contained in this article."
Articles by thewillnigeria.com