2011 Polls: INEC Already Given N76B Gets Balance Friday - Aganga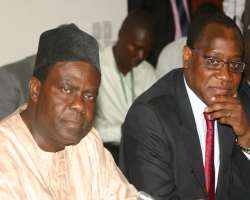 PHOTO L-R: DIRETOR GENERAL, BUDGET OFFICE, DR BRIGHT OKOGWU AND FINANCE MINISTER, DR OLUSEGUN AGANGA AT A MEETING WITH THE JOINT COMMITTEE ON APPROPRIATION OF THE NATIONAL ASSEMBLY TODAY, OCTOBER 14, 2010.

ABUJA, Oct 14, (THEWILL) - Minister of Finance Mr. Olusegun Aganga today disclosed that the Federal Government has so far released N76 billion to the Independent National Electoral Commission (INEC) and that the balance of the N87 billion supplementary budget approved for it would be disbursed on Friday.
The Minister spoke when he gave a rundown of the level of implementation of the 2010 Appropriation to the joint Committee of the Senate and House of Representatives on Appropriation.
Aganga further informed that before now the Federal Government had remitted N11 billion naira monthly to INEC and would remit the balance by the end of today.
However, he said that although government has fully realized the projected budget revenue, yet there is already a budget deficit of N2.6 trillion for 2010.
Aganga who had in his introductory remarks to the committee who summoned him to discuss the level of implementation of the year's budget said that so far, the budget has achieved 53.47% implementation by the end of September.
According to Aganga, the revenue target for the period under review was N2.4 trillion and this has not only been fully realized but that excess revenue was even transferred into the excess crude oil account.
In addition, he revealed that the Federal Ministry of Finance has fully released recurrent portion of the budget which is N3.2 trillion for the whole year.
The fourth quarter capital release he further told the lawmakers would be made today including the remaining N11 billion balance for INEC.
However, his explanation led to a heated controversy from the lawmakers who disputed the figure and insisted that by the data collated from the various ministries and parastatals during their oversight visits, less than 30% of capital implementation of the budget has been achieved.
Chairman of the House Committee on Internal Affairs Jerry Manwe reminded Aganga "don't forget this is election year and our people are saying that we are liars in that the roads we promised to repair for them have not been repaired and this is already October. You are talking of putting money into the excess crude account. What is our business with that? Is it not the money that you share with the governors to do whatever they like with? From our findings through our oversight duties in the ministries, we have discovered that the level of budget implementation is under 30%".
Aganga however countered, insisting; "I don't recognize your figures. I keep the record of Finance", and requested Chairman of the Joint Committee, Senator Iyiola Omosore to ask reporters to leave the venue so that he could open the books to them for scrutiny.