EVICTION GALORE @ GUS7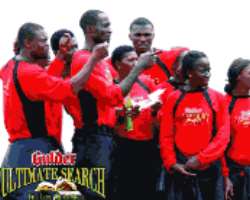 GUS
Eviction wind is currently blowing heavily on all the contestants of this season's Gulder Ultimate Search (GUS7), in their Ogun State rugged jungle. As at the last count, four unlucky contestants had been sent packing from the J4 forest currently housing the tensed competitors. First to be evicted was Dandison Strongface, he made history this year by becoming the first casualty, without spending close to a week in the jungle.
Strongface was ordered to evacuate from the camp by the Council of Elders at the Place of the Talking Drum. He was sent back from the camp on the orders of Bob-Manuel Udokwu, the spokesperson of the Council/anchor. He was equally asked to go and stop his clock from running which symbolizes his exit from the contest. His eviction brought a 'wakeup call of reality' to his fellow contestants and everybody withdrew to their shells waiting for whose turn it would be next.
Unknown to Tonia Oduah, she was the next to quit the house, after coming last in the day's task. Same fate later befell Simeon Okorougo, who couldn't solve the general puzzle given them by Udokwu. However, the most painful exit was that of Sabdat Bamitale, fondly called the 'mama' of the jungle by her colleagues.
Having come last in the day's task, she was told to leave by Udokwu, at the Place of the Talking Drum. With tears in her eyes, she bade her fellow contestants' goodbye in an emotion-laden voice. But before doing this, she had earlier hugged each of them. The riveting search continues this weekend with more shocking evictions and jungle games.