Lari Williams disowns Nollywood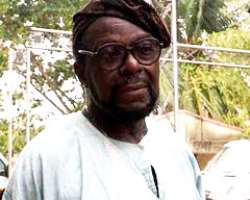 Home Video People Oct 15, 2010 Veteran actor and pioneer president of the Actors Guild of Nigeria(AGN), Mr Lari Williams has
disowned the name Nollywood, saying that "it has no relevance to the film industry in Nigeria."
He also frowned at the protracted crisis rocking the Actors Guild of Nigeria(AGN).The veteran actor described the crisis as "meaningless and unfortunate."
Lari, in a chat with NFCduring the week suggested the adopting of Kanwood in place of Nollywood, arguing that Kanwood as a care skin tree has more relevance to the industry than Nollywood.
"I have always had issues with the name Nollywood. It has no meaning to the industry. I suggest that we adopt the name Kanwood because it has a meaning. Kanwood is for skin care , and skin has to do with make-up and make-up is an artiste thing. " he posited.
The veteran actor further argued that Hollywood as a film city in the United States, was built at a place called Hollywood.
Reviewing the lingering crisis in AGN, Lari who's currently a Senior lecturer at the Department of Theatre Arts, University of Calabar said given the crisis, the present AGN is far from being the same AGN that he presided over its affairs several years ago.
He took a quick swipe at immediate and remote causes of the crisis, wondering why some people should be fighting over the leadership of the guild.
In his words, "I am not happy with the crisis that is rocking the actors' guild. The people who are fighting over the leadership of the guild have nothing to offer to the guild.Since after my exit, what new innovation have they brought to the guild."
He said, while he was the president of AGN, he led the guild on a courtesy visit to then, Inspector General of Police, and also the Senate President to discuss the existence of the body during his tenure as AGN president