YOU'RE EXPIRED, CHUKWU BLASTS YOBO, ODIAH, TAYE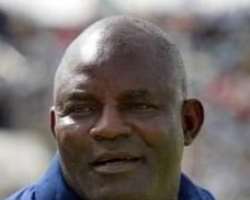 Christian Chukwu
Super Eagles former manager, Christian Chukwu, believes Joseph Yobo and some of his colleagues from Europe deserve a break from national duties. Chukwu made the remark after Sunday's 0-1 shock loss to Guinea in the Africa Nations Cup qualifier.
'I think players such as Joseph Yobo, Taye Taiwo and Chidi Odiah should take a break. They don't have to play all the matches during the Africa Nations Cup qualifiers. These guys need to rest because of their tight schedule at their respective clubs,' Chukwu said.
He expressed concern that the players were human beings who could get tired if over-worked.
In their absence, Chukwu said 'the handlers should get the Nigeria Premier League (NPL) players to properly fit in. That is the best way to build the team. Moreover, the NPL stars will play with more determination.'
The Eagles loaded with Europe-based stars failed to fly against Guinea, on Sunday.