STRANGE GROWTH RAVAGES BOY'S FACE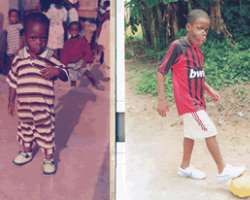 When Azeez was born into the family of Mr. and Mrs. Adeleye about 12 years ago, they were very happy that God had given theam a son that would possibly take the family name to high places. He grew with wisdom, good health and sound mind until he clocked two years. But since then, he has been battling with a strange growth in his mouth. The disease has taken the better part of his face.
Despite the ailment, Azeez is described as a brilliant pupil who loves soccer. He hopes to combine his academics with the round leather game.
At the Lagos State Teaching Hospital (LUTH), Idi Araba, he was diagnosed with neurofibroma. The Consultant, Oral and Max. Surgery at the hospital, Professor G.T. Arotiba said a sum of N134, 350 would be needed for surgery to tackle the disease.
In the breakdown of the estimate, Arotiba explained that admission for two weeks would cost N34, 000, operation fee N38, 250, drugs N25, 000, feeding N7, 000, haematology tests N3, 000, blood chemistry tests N3, 000 and miscellaneous N15, 000.
Azeez's case was first reported on page 40 of Daily Sun published on Wednesday August 11 this year. At that time, the amount needed for the surgery had not been disclosed by the hospital.
Mrs. Iyabo Adeleye is the mother of Azeez. She lamented that the ailment has made life miserable for her son who currently studies at the St. Thomas Nursery and Primary School, a Catholic school in Ibefun, Epe area of Lagos. She added that the story of Azeez has continued to baffle his fellow pupils and neighbours.
'It started like a boil when Azeez was two years old. Unfortunately, it has grown beyond normal proportion and it has now defaced him. Since the strange ailment began 10 years ago, the family has spent a lot of money going from one hospital to the other,' she stated.
Mrs. Adeleye said it has been very difficult for the family to feed him everyday because Azeez has to open his mouth wide before he takes in anything. She is pleading with kind-hearted individuals, groups and corporate organizations to come to her son's aid.
'I am appealing to kind-hearted Nigerians to please help my son,' she said. 'Now, there is a hole in his jaw where blood is coming out. The ailment is a mystery to us because since it started, it has defied all solutions, either spiritual or medical.
'I want Nigerians to save my son because the doctors at LUTH have told me that my son can get back to normal if he is operated upon. That is why I'm begging philanthropists, non-governmental organizations, corporate organizations and government to help us.
'I am a petty trader and his father is a farmer. It has not been easy for us to keep him in the past 10 years because the case has been traumatic for us. The family is very poor.
'We have spent all the money we have on this disease. We even had to sell our property to pay for his treatment. We cannot afford his medical bill, so whatever we get from Nigerians will go a long way in footing the bill for the operation.
'Please, help us to save my son's life and I pray that God will bless your children with good health and long life.'
Mrs. Adeleye revealed that Azeez's case was first brought to the Lagos General Hospital before it was later transferred to the University College Hospital (UCH), Ibadan in 2005. He stressed that the family stopped going to the UCH when they did not have money to pay for his treatment again.
When there was no improvement in the boy's condition, the family took him to the Lagos University Teaching Hospital (LUTH). There, the doctors told them that the growth on Azeez's face would disappear once surgery is performed on the boy. According to the hospital management, surgery would be carried out on his ailment as soon as the family meets the financial requirements of the hospital.
Mrs. Adeleye can be reached on 07087727561 and 07053133454. She said an account in the name of Adeleye Azeez A has been opened at the First Bank Nigeria Plc. The account number is 2853160000417.