JONATHAN GOES BACK TO SCHOOL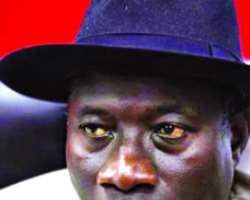 Jonathan

'By the rivers of Babylon we sat and wept when we remembered Zion.' Those words of Rastafarian song written and recorded by Brent Dowe and Trevor McNaughton of the Jamaican reggae group, The Melodians, in 1970 but made popular worldwide by Boney M, in their single hit of 1978 titled: 'Rivers of Babylon,' re-echoed last week, as stakeholders, including President, Goodluck Jonathan, gathered in Abuja, to brainstorm on the problems of, and solutions to, education system.
But the weeping, the lamentation, the biting of fingers, the sighing and shaking of heads, that took place at the spacious and exquisite Congress Hall, Transcorp Hilton Hotel, Abuja, between Monday, October 3 and Tuesday, October 4, turned out to be, not for the city of Zion, this time around, but for what life used to be, as far as education in Nigeria was concerned, a far cry from what it is now. In all, the summit which has as its theme, 'Reclamation, Restoration and Sustenance of Quality and Ethics in Education in Nigeria' provided the much-needed opportunity for participants which included management and senior officers from the Federal and states' ministries of education, examination bodies like JAMB, WAEC, NECO, NABTEB, Pro-chancellors, chancellors, vice chancellors, politicians, religious leaders, traditional rulers, non-governmental organizations, trade unions, expatriates, to reflect on where we are coming from, where we derailed, but also to chart a course to where we should be in the next few years, all things being equal.
'We have to start the process of rebuilding our country, in all sectors,' the President noted in his opening remarks. 'Today, we are going to talk about education. We are going to have similar sessions in every sector. We are starting with education because we all know the relevance of education. Without having a well-educated crop of young men and women, we cannot change this country.
We cannot get the Nigeria of our vision. No matter how intelligent one is, if you don't have that opportunity of formal education, you will be so limited that you will not be able to use your intelligence to change your society and to contribute to the economic development of the country. You may be able to operate at the community level, but you will not be able to operate beyond the community level. For you to get to the level that you can influence, change the country or represent the country, you must have basic formal education'
The nature and content of that formal education was what participants gathered in Abuja to deliberate on, in the two-day summit.
'We all know the problems. That's why I said I wasn't going to present any formal speech,' the President further remarked. 'I have my speech. I worked on my speech but I am not going to deliver it. I'll rather want to listen to key stakeholders here. You people should give me the idea of what you believe is wrong with our education system, then from there we will divide into working groups. Whenever they want to make their presentations, I should be called back. I want to listen.' This remark was greeted with a round of applause.
'But one thing that keeps disturbing me is that even at the highest level, we keep 'ruralizing' education. Take the university for example, which we look at as the citadel of learning. The university environment is supposed to be an international setting where, ordinarily, you are supposed to bring lecturers from all over the world to expand and explore the horizon of knowledge.'
Then at this juncture, the President went back to school, into memory lane of what school, at the primary, secondary and university levels used to be for him, in years gone by and wished we can return to that status quo. 'In fact, as late as 1977 when I went to university, I was taught by lecturers from all over the world,' he said. 'But now, to appoint a vice chancellor, people insist it must be from their locality.' (Again, this comment was greeted with a round of applause).
Continuing, he said: 'Even at the village level, the headmaster and many of the teachers who taught me were not from my village. But today if you are talking of a teacher, headmaster or vice chancellor, people insist it must come from their village. I think, we must go back to that era. These things must change. I will have to consult with the governing councils of the universities and we must agree that any university that wants a vice chancellor must advertise it and the best brain from anywhere in the world must be recruited to do the job. I don't see why a good Professor from ABU (Ahmed Bello University) cannot be made the Vice Chancellor of University of Ibadan nor why a good Professor from University of Ibadan cannot be appointed the Vice Chancellor of University of Nigeria, Nsukka. We must change.
'If the state-owned university wants to ruralize their appointments, so be it, but in Federal-owned institutions, anybody can be posted anywhere. We must begin to do things right in this country. We are becoming too personal, too nepotic and too narrow-minded in everything.' At this juncture, he stopped and said, 'I don't want to say anything that can bias your mind. Rather, I want you to be free to say what you have in mind. That's why I didn't want to present a formal speech because if I do, I may raise up some issues that some people may not be too happy with.'
Even so, he was to raise some dust when he, in unequivocal terms, condemned as too theoretical the purports and goals of the 6-3-3-4 system of education. Apparently frustrated by the failure of the education system to translate the country into the much-talked-about technological and technical El Dorado, President Goodluck Jonathan asked the former Minister of Education who introduced the 6-3-3-4 system of education to apologise to Nigerians, for recommending such unwieldy and unworkable system.
'6-3-3-4 is not working,' he sadly noted. 'In fact, the Minister of Education who advocated 6-3-3-4 needs to apologise to Nigerians. It is one of those theoretical concepts that did not work. The secondary school education system has been dislocated but it is not working. In fact, there is nowhere it is working because it's all theory. So, I appeal that those who are going to discuss at this stakeholders meeting to come up with policies that we can implement.'
President Jonathan further noted that education as a social service for the development of the human resources of the country must be insulated from politics because Nigeria cannot achieve its   vision without a quality education. He then added that the Federal Government would review the stringent guidelines of the special intervention funds like the Universal Basic Education and the Education Trust Funds (ETF) to attain faster delivery of education at the basic levels.
The President also hinted that reports from the summit would be presented to the governors for action so as to make the nation meet the desired expectation.
Earlier, in her welcome speech, the Minister of Education, Professor Ruquayyatu Ahmed Rufa'i decried the decadence in the education system. Commenting on the quality of graduates from Nigerian universities, the Minister said that graduates from Nigerian universities in the 70s and 80s were a source of pride to the nation and were globally competitive but today they are a source of concern to the nation.
The Minister who cited the recent mass failure of students at the Senior Secondary School examinations organized by both West African Examinations Council (WAEC) and National Examinations Council (NECO) noted that such failures are an indication of a systemic failure.
She admitted that the challenges facing the sector are enormous but not insurmountable. Such challenges, she said, include inadequate facilities and infrastructure, access to good and high quality education, equity matter, teacher quality, efficiency and effectiveness, curriculum relevance and coverage and outdated pedagogy.
Others include obsolete and non-availability of syllabi in schools, lack of adequate data for planning  purposes, lack of transparency, probity and accountability, brain drain, political influence on purely educational matter that ought to be sacrosanct, frequent changes in educational policies and system, non-adherence to mandates by institutions, warped value system, immoral behaviour and non-readiness to study by students and which has given rise to 'sorting' by both teachers/lecturers and students.
'In addition, the perennial unrest which plagued our tertiary institutions in the recent past must be addressed so that the current industrial harmony across most of our institutions will be sustained,' she said.
According to her, it was the moral decadence in the system that led to the balkanization of National Association of Nigerian Students (NANS) into five factional presidents being supported by the powerful and rich Nigerians.
'The resultant effect of all these are the low quality of global non-competitiveness of our graduates. This and other ills have found their way into the lower levels of education and have resulted in the abysmal performance in the senior secondary certificate examinations.'
The President who discarded his written speech and opted to speak, ex tempore, remarked that 'this is a moment of hard talk and I want us to talk to ourselves, to see the way that we can move this country forward. I directed that this stakeholders meeting should be convened by the Minister of Education. I'm quite aware that a number of meetings, conferences, seminars on education, have been held.
'When I think of these meetings, it makes me remember one of late Ola Rotimi's drama, Holding Talks.  It depicts a situation where, in those days, two countries or one country had a civil war or two countries are fighting and world leaders are moving from one table to the other, drinking coffee and tea and talking on how to solve the problem. Yet people are dying, and nothing concrete is being done about it.
'I would not want this meeting to take that form of Holding Talks. That's why we invited our opinion leaders, religious leaders and traditional rulers to be part of this meeting. These are special stakeholders. What worries me is that Nigerians are very intelligent. We can vouch that we produce quite a good number of highly intelligent men and women.'
Speaking at the summit, Chief Edwin Clark, the highly-celebrated Ijaw leader, started his speech by noting that such a summit is long overdue. Clark who said he was a primary school teacher in 1947 and became a headmaster in 1951, remarked: 'The first thing I will like to say, Mr. President, is, you have to examine the policy in education. A situation whereby the Federal Government, the State government and the local government are competing for the opening of primary schools will not help us. In those days, there were three regions. The North had its own primary education system, the West had and the East had its own. No one was forced to move at each other's pace. Free primary education was introduced in Western Region by Chief Obafemi Awolowo, at that time. Other regions that could not do it, waited.
'Today, you find a primary school teacher looking like a labourer walking along the street. In dressing, in posture, in personality, he has nothing to show because he is not being paid promptly. The very pupils he taught in school are hundred times earning more than he earns. Today, nobody forces him to write lesson notes, nobody examines to see whether he did or not, in those days, you burnt the lantern writing lesson notes because your headmaster must see it. But today, everybody is on his own. Those they taught in school are riding big, big cars whereas the teachers who taught them are asked to wait for their rewards in heaven. So, Mr. President, what I advise you is that you should examine the policy in education. There should be division of labour; Federal Government should concentrate on tertiary education while state government should concentrate on secondary and primary education. Above all, you should make sure that teachers are well-remunerated. Thank you.' His speech was greeted with a prolonged applause.
But on the second day of the summit, Professor Eunice Okeke was to throw the audience into spasmodic laughter when she asked the President whether nothing can be done about having a credible national data to aid our national planning on education.
'Since over 27 years I have been in service, each person reports lack of data, Mr. President, is there a virus in our ministries of education, eating up this data?' Her question which took everyone by surprise set the participants and those at the high table, quaking with laughter, including the President. All others, except the elderly woman, who continued her contributory talk with a deadpan mien:
'When I was doing my Ph.D abroad, I got reliable statistics from all other countries, but none from Nigeria. When I finished my Ph.D and wanted to get segregated data, I tried but I started seeing 'incomplete', 'not available.' Even when you get, the one you get from NUC, is different from the figures being quoted by the National Planning, and the one you get from the National Planning is different from the one you get from the institution itself. Sir, I think there is a virus you will need to attack so that we can get a reliable data.' Again, the participants laughed and applauded.
'Don't worry, I will try and attack that virus,' the President said, causing more laughter.
Other concerned stakeholders who spoke at the summit on the state of education in Nigeria include Dr. Mrs. Sarah N. Jibril, a foremost Nigerian  female politician and chairman, governing council, Federal College of Education (Technical), Asaba, Mrs. Sarah Sosan, Deputy Governor, Lagos State who called on teachers to be alive to their duty while the issue of adequate remuneration and other motivations are being looked into, Alhaji Najib Useini Adamu, Emir of Kazaure, Jigawa State, Professor Folahan Ayorinde, of College of Arts and Sciences, Howard University, U.S.A. who pleaded that the appointment of vice chancellors be extended even beyond Nigeria to capable  hands in other countries, as it is done elsewhere in advanced countries, Dr. Wale Babalakin, great industrialist and builder of Murtala Muhammed International Airport 2 and Chairman, Nigeria's Committee of Pro-Chancellors, Professor Julius Okojie, Executive Secretary, National Universities Commission, Professor Ngozi Osarenren, Commissioner for Education, Edo State, Professor Godswill Obioma, Executive Secretary, Nigerian Educational Research and Development Council (NERDC), Professor Promise Okpalla, the Registrar of NECO, Professor Dibu Ojerinde, registrar, JAMB, Dr. Aminu Ladan Sharehu, Director-General, National Teachers' Institute (NTI), Kaduna, Professor Abiye Obuoforibo, of Rivers State Economic Advisory Council, Professor Otonti Nduka, President, Nigerian Academy of Education, and Dr. Olu Ayenoh, Policy Consultant Education, Nigeria Governors' Forum.
Past Ministers of Education who attended the summit include Professor Tunde Adeniran (1999-2001), Professor Ihechukwu Madubuike (1982-1983). Some Deputy Governors and Commissioners for Education from almost all the states of the Federation attended. So did General IBM Haruna (retd.), chairman of Arewa Consultative Forum (ACF), Mr. Steve Oresanya, Head of Service, Senator Atiku Bagudu, Chairman, Senate Committee on Education, Alhaji Lawan Faruku, Chairman, House of Representatives Committee on Education and Dr. Shamsudeen Usman, Minister, National Planning, among others.
Most of the speakers praised Rufa'i for her foresight, tenacity and doggedness in seeing that education is restored to its former glory.
In another development, the President, denied making a policy statement that the 6-3-3-4 should be abrogated, a statement which was widely reported in many newspapers on the last day but only claimed to have said that it is not working in his state. 'If you know any state where the system is working, come and tell us,' he challenged.
Giving her perspective on the summit in an interaction with newsmen, Ahmed Rufa'i noted that 'it was a very relaxed interactive session with the President who summoned the education summit in the first place. It was a session whereby the President listened to all the stakeholders who have something to say on how to solve the major issues facing the sector, particularly on how to move forward.
'The President is so much concerned about the fact that many reforms had been made, many seminars and meetings had been held, many positions and policies taken, yet the situation sector is still nothing to write home about. That's why he summoned for this emergency stakeholders meeting and people were able to say their views on how they feel the sector should be able to move forward. He is very much ready to reposition, to restructure, to ensure that the sector was actually moving toward a greater height. What the President is concerned is if we have wrong policies, we better now drop them and adopt new one. What are we doing wrong that we are not making headway in the education sector after 50 years of independence?
His concern is that if there is anything that we are supposed to be doing which we are not doing, let us now do it and if there is anything wrong with policy that we are adopting, we need to restructure, we need to look inward and ensure that what we are going to do will help in terms of developing the sector in the shortest possible time.'
'Well done is better than well said,' the Transcorp Hilton Hotel beamed again and again on its wide screen for the benefit of its workers before the formal opening and commencement of the summit on the first day. Although the quote, culled from behospitable.com was done to remind its workers of their eternal duty to their highly esteemed customers/clientele, it serves as much a reminder to Transcorp Hilton Hotel workers as it is to all stakeholders in education who gathered at the Congress Hall of the five star hotel, between Monday, October 4 and Tuesday, October 5, to brainstorm on the state of education in Nigeria and on the way forward.
Only time will tell whether it will be 'well said' or 'well done,' at the end of the day.
With additional reports from ISAAC ANUMIHE, Abuja