GROUP FLAYS CIROMA ON IMPEACHMENT CALL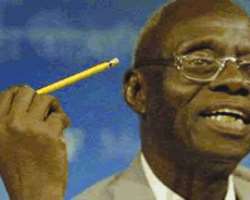 The call for President Goodluck Jonathan's impeachment or resignation has been described as a desperate and failed attempt to cause distraction and overheat the polity.
National Chairman of the Jonathan/Sambo Vanguard, Mr Mba Okoroafor, in a statement waved off the call by the Alhaji Adamu Ciroma-led Northern Leaders Political Forum (NLPF) as 'uncalled for, unjustifiable and misdirected.
'We hereby frown at the handiwork of a small misguided elements posing as representing a section of the country asking the President of Nigeria to resign on the strength of the bomb blasts and at a vital period of transition to another phase of democracy.
This is a mark of desperation on the path of a group of politicians who had previously attempted and continue to deploy all foul means to raise dust on the issue of zoning, even as they had failed in the process,' the group said. Following the October 1 twin bomb explosions in Abuja, the NLPF, had told President Jonathan to resign or face impeachment.
But flaying the call, Okoroafor said: 'By citing instances from other civilized democracies of the world, we would like to remind that no American called on former President George Bush to resign in the aftermath of 9/11. Neither was President Barack Obama asked to step down simply because an attempt was made to blow off an American bound airline late last year by a 23-year-old Nigerian, Umar Farouk Abdumutallab. Rather, the American people stood behind their Presidents. We hereby align with the tradition in every peace-loving nation, that in times of war, the people are not divided but solidly united.'
Okoroafor, therefore, asked Ciroma, leader of the NPLF, to retract the impeachment threat.
The Goodluck Jonathan/Sambo Vanguard chairman noted that for a statesman like Ciroma, who understood the importance of leadership, to be calling for the impeachment of the president was not only too harsh, but also self-seeking.