BOMB BLASTS: STOP THE DIRTY WAR, CNPP TELLS PDP LEADERS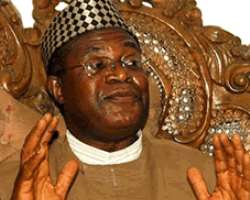 Nwodo
Conference of Nigerian Political Parties (CNPP) has expressed regret over how the national leaders have fallen for ethnic jingoism in their reaction to the October 1 bomb blasts.
It therefore appealed to the leadership of the Peoples Democratic Party (PDP) to stop the ongoing brick bat over the October 1 bomb blasts in the interest of the survival of the nation's fledgling democracy.
'We appeal in good conscience, natural justice and for the survival of our fledgling democracy and security of our dear nation to forthwith stop raging the dirty war', the CNPP pleaded in a statement signed by its national publicity secretary.
It stated that its appeal was for national unity;' for it is our considered view that the dirty war is the intra- battle for the soul of Peoples Democratic Party (PDP) and by extension the food is ready attrition of the last decade, which is dangerously sliding Nigeria into a failed state.
The body of opposition parties expressed regret that the dirty war was linked with the unfortunate independence anniversary bomb blast; where the nation lost innocent citizens and many seriously injured. The statement said; 'the provocative utterances, foul language, inflammatory comments, unpatriotic and reckless statements from the combatant's factions and drums of war; no doubt undermine national security and unwittingly is capable of a full blown war if not stopped forthwith.
'CNPP had carefully gone through the inflammatory statements of Chief Olusegun Obasanjo's camp, Alhaji Adamu Ciroma's Northern Leaders Political Forum, Chief Solomon Lar's Northern Political Summit, Chief Edwin Clark's Ijaw National Congress, the President Jonathan Campaign Organisation, the IBB Campaign Organisation and other sundry groups mutating on daily basis and could not find any line which addressed urgent issues of national development except the struggle for the soul of the PDP.'
It also frowned at how the mighty nationalists have fallen to ethnic jingoists; 'when we recall that these preachers of hate, ethnic, regional and religious champions and drummers of dirty war dance, were at one point or the other in the fore front of the fight to keep Nigeria one.
'To worsen matters they are also classified in the hall of the greatest beneficiaries of the Nigerian project, former president, former ministers of finance, police, information, industry, governor etc and contributed little or nothing to neither develop their immediate environment, community nor the country. This means that the battle they wage is self serving and self glorification.