I want to be an agent of change –Kanayo O. Kanayo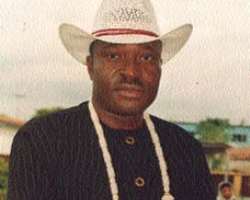 His arrival at Wadata Plaza was not heralded by any siren blaring vehicle, the stock -in -trade of leading gladiators in the Peoples Democratic Party, [PDP] but his presence was noticed by journalists.
What was his mission at PDP national secretariat, inquisitive journalists asked themselves?
They approached Onyekwere Modestus Anayo, Kanayo. Kanayo, his sobriquet in the Nigerian film industry, Nollywood. He told journalists that he is an aspirant for the House of Representatives and came to submit his nomination form.
He wants to represent, Ahiazu/Ezinihitte Federal Constituency in Imo State.
He justifies his foray in active politics as predicated on his mission to be an agent of change.
Excerpts:
This is a party secretariat; what is your mission here, or are you now a politician?
We are politicians, the only difference is our level of activism in politics. Just as I also tell people, we are all actors, it depends on the kind of acting where we provide service.
In the Law class, I was told that we are all agents no matter what you do. A lawyer, who stands before a judge and doesn't present his case very well will lose and therefore, he has to act well to tell the judge that he knows the fact and a doctor who performs an operation, wrongly has acted wrongly and therefore, will have a problem in his hands.
Whatever you are doing here right now, you are acting. If you present the wrong side of this news, they will come for your head tomorrow, therefore, we are all actors. But in terms of what part we play in politics, I believe it is all service provision. We are providing service, but there are people who have taken it upon themselves that when they wake up they talk politics, they eat it and they sleep with it. Some go to do some other duties by the day, but it doesn't make them less politician, but they haven't taken an active interest in it.
So, when you ask why I am getting into politics I just answered that I am getting into the mainstream right now. Number one, represents the yearnings and aspirations of my people; this is as a result of the societal contributions I have made through my trade and therefore, I want to represent them at the legislative hierarchy and then begin to also... it would not be out of place for me to say that the industry where I come from will be adequately represented, because we have had people outside our industry barb our hair in our absence and I think it is unfortunate. With my candidature, I believe that the industry will be the better for it.
The legislature isn't unlike the executive arm, where you can easily influence development for your community.
So, why the legislature?
There is always a starting point. I believe that you may see me as a green horn, but I am going to learn the ropes. Maybe also I have a game plan and that game plan may not be used up until 2015, but there has to be a starting point for me. This starting point isn't just to test the waters, but to begin to be identified as somebody who has been able to do something as in group performance at the legislature and could be trusted at the Executive when he vies for it.
But why the PDP platform?
Well, I believe that the PDP has more structures and would provide a better pedestal for anybody who is a first timer. That's one. I also believe that the PDP is the best, even with all the wrangling in PDP, it still remains the most organized political party—even with the wrangling. Thank God that the chairman, Dr Nwodo is trying to ensure internal democracy right now, but I still believe that the party still holds the ace in terms of organization, in terms of structure, in terms of spread, accessibility and I think that if they get their acts together with the Jonathan presidency, I think that the sky isn't going to be the limit for the country.
Aren't you worried over the incumbency factor and the money bags?
They should be afraid of me, because I am the most credible guy aspiring for this office.
This is now a new Nigeria, we are all craving and praying for generational shift. So, I am not in any way scared of any undertones, or leanings. But the fact still remains that I am coming into this isn't a do-or-die- affair.
I am taking this thing like, it is life I am living. It isn't something that is coming out of space. To me, it is a contest and in any contest, you have got to put in your best and my best would be tested when I get to my people, the constituents, they are the ones to decide there.
I thank God for what we are expecting with the electoral laws and so on—that we are all craving for one man, one vote and definitely that's what is going to be sorted out. So, I am not intimidated by anybody cash value, or anybody tenure in the House of Representatives or Senate, but I am presenting myself for service and I believe that I have the qualities it takes to be voted into office.
You are ware that your party is heavily polarized in Imo State. Would it not undermine your chances and what faction do you belong?
Well, I wouldn't, answer the second leg of your question, hundred percent. I was a son of Mbaise before PDP came and therefore, I see everybody who is contesting as a brother or as a sister . The polarization of the party in Imo State could spell doom, if we all begin to see it as a fight, taking advantage of who has been there and who hasn't been there. The fact still remains that at the end of the day, water must find its level. With the kind of meetings they have been having at the National Working Committee level, I believe that they would come out and box everybody into shape.
They all started as one and PDP still remains one. For me, just like the presidential declaration of Dr Goodluck Jonathan, there was an Imo stand and I told them, that Imo stand doesn't recognize an alliance or the new face. What was there was Imo State and that is still my stand.
So, you can see my stand: an Imo son belonging to the party of PDP and therefore, I would align with the PDP.
How prepared are you for the office?
Prepared in what sense? You are asking me a general question. I mean, do you have what it takes to be part of the team that would ensure quality legislations.
Ok. I got what you said. It may interest you to know that educationally I am equipped. I have a diploma in Mass Communications, I have a diploma in Law, I have a first degree in Philosophy and I have a Masters degree in Political Science. I think that should answer your question. So, I am not just the actor you see on TV, I am educationally equipped.
On a final and equally lighter note. I watched the film, Lost Kingdom; are we going to have the principal actor in that film, replicate what he did to the imaginary community in that film, or he would be an agent of change for Nigeria?
Well, it would be cumbersome to answer that question, because a lot of people here may not have watched the same film. But as a refresher...
Lost Kingdom is a microcosm of how people graduate from one crime to the other in the society. This guy from secondary school started stealing; he became an armed robber, dropped out and from armed robbery he went into drugs and from that he went into 419, Advanced Fee Fraud and he made a lot of money.
Now, to be important and relevant in the society where he was operating, he needed to have a chieftaincy title and that was cog in the wheel of wherever he was coming from: he was an outcast, but he had a lot of money and he went and bought a chieftaincy.
From buying a chieftaincy, he presented cars to the Igwe; along the line, the Igwe died and seeing that the stool was vacant, he said, ``no somebody must occupied this stool`` and then he insisted it should be him. He bought his way and became the Igwe and that's why I described it as a microcosm of how people graduate from one crime to the other.
Now, if you look at this for me, it is very dangerous to deal with people who don't have sense of humour. Just like I don't deal with anybody who has no sense of shame and that's one of my cardinal points here. I told them in my Mbaise constituency, I told them that we wouldn't vote for anybody who has no sense of shame.
I am an actor and by the grace of God, I am one of Nigeria biggest brand. I am aware of that. So, whatever I do attract public interest.
So, that's the same mind with which I am going to the National
Assembly. I have a sense of shame; I have the papers, even if I walked through here, it would be written by somebody that I came to the PDP national secretariat and that's with the mind set which I am going to the National Assembly.
So, it can not be business as usual.