Notable Producer, Emem Isong speaks on Memories of My Heart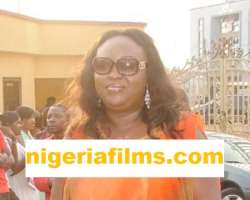 With over 15 years experience in movie making and blockbuster movies like 'Hit and run', 'Emotional Crack', 'Games Women Play', 'Games Men Play', 'Behind Close Doors', 'Bursting Out and recently 'Memories of my heart' to her credit, Emem Isong speaks on her recent job 'Memories of my heart'.
Divulging what to expect from the movie, Emem Isong who has lost count of the number of films she has produced said, "I am excited about the film, it is one of my favourites in recent times. It is a sweet movie that anyone would love to watch at anytime. It is just like 'Bursting Out'. Let people look out for this movie because I think it is wonderful".
Memories of my heart is produced by Emem Isong for Ini Edo, the Executive producer and it tells the story of Halle an aspiring actress who had attended several auditions without getting a role. She finally gets her chance when she claims to be Bankole Da Silva's fiancée, an oil magnate she's never met. She's given the role on the condition that Bankole funds the movie. Halle now struggles to get out of the web she has spun for herself. Just as Halle gets Bankole's attention, Bankole suffers a terrible accident leaving him with amnesia. Dr. Dammie, a female doctor nurses him back to health and into her waiting arms. As the relationship deepens, Halle re-appears on the scene throwing Bankole into a state of confusion.
Emem Isong whose movies always tilt towards the romantic genre said, "I always tell people that movie making is like writing a novel, you always know what to expect from each author, for example you know John Grisham writes about legal matters and law firms and some other authors about something else. So I don't have to do action movies to convince people I am a good producer. Romance movies are what I like and I make no apologies for it."
Memories of My Heart which has such A' list acts like the executive producer of the movie herself , Ini Edo, Ramsey Nouah, Uche Jombo, Nse Ikpe-Etim, Koffi Adjorlolo (from Ghana), Monalisa Chinda, Desmond Elliot and many others as casts will be premiered on October 15th at 10A Ikoya Avenue, off Macpherson Street, off Bourdillion Road, Ikoyi, Lagos