CALLY IKPE VOWS TO DAZZLE WITH NMVA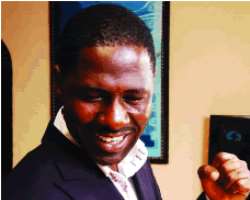 Cally Ikpe
Organisers of Nigerian Music Video Awards (NMVA) have set aside November 28, 2010 as the date for this year's event. This announcement was made barely 24 hours after the close of entries for this year's awards.
According to Cally Ikpe, brain behind the first ever nation's music video award, NMVA will take place at the new Exhibition Hall of Eko Hotels & Suites, Victoria Island, Lagos.
Blockbuster, however, learnt that this year's edition witnessed unprecedented entries from different parts of the country. Unlike the previous years where majority of the entries came from Lagos, the organisers recorded tremendous entries from every part of the country especially from the South-South and South-East regions.
Says Ikpe: 'The entries received from these two regions competed with entries from Lagos regarded as the music headquarters of Nigeria. This has further established NMVA as a wholly Nigerian brand.'
Reflecting on the growth of the music video industry in Nigeria, Ikpe said there has been a remarkable improvement in the quality and trend of music videos production generally.
'A good music video, necessarily must serve to complement the song in focus. An apt application of great camera work, aesthetics, purposeful directing, colour correction, depth of feel, sensible use of effects and at least near perfect editing is required. Vulgarity or obscenity as far as I'm concerned is not necessary; neither should it be over conservative. Creativity and professionalism is key. Ultimately, the music video must have attracted the deserved attention to the song', he stated.
From its first edition in 2007 when Infinity's Olorioko video stood out glaringly to the 2008 edition where P-square bagged laurels for excellently produced music videos and 2009 when Dare Art Alade proved that hard work pays, the NMVA has come a long way and registered significantly as a very viable iconic brand.
Pooling reputable names in the industry such as Philip Trimnell, Tunde Hyundeyin, Patrick Doyle, Wale Ewedemi, Charles Novia, and Jetta Amata, among others, the awards has remained committed to recognising and rewarding hard work.
While still in talks with prospective sponsors, Cally Ikpe agrees NMVA is fast becoming 'the most credible, most respected and most attractive out of Africa' and thus calls on corporate investors to seize the opportunity that the wholly Nigerian brand offers to contribute to the revolution that is fast engulfing the music video industry in Nigeria.