BIG BASH FOR CHARLY BOY'S DAD AT 86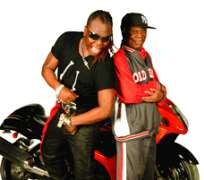 Charly Boy and Dad
It was music, praises and camaraderie as the society's crème de la crème last Saturday gathered at the Ladi Kwali Hall, Sheraton Hotel and Towers, Abuja to celebrate a life of achievement.
It was indeed the 86th birthday bash of retired judge of the Supreme Court, Justice Chukwudifu Oputa, a man that has devoted his life to the development of humanity. And what actually set the event apart from others was the panache and razzmatazz displayed simply because the celebrant is father of showbiz impresario, Charles Oputa aka Charly Boy.
Former president, Chief Olusegun Obasanjo, as chairman of the occasion, injected a surprise element into the whole thing as he wheeled into the venue Justice Oputa's wife. The birthday lecture was delivered by Mallam Nuhu Ribadu, former Chairman, Economic and Financial Crimes Commission (EFCC).
Speaking on 'Leadership and Integrity in the 21st Century; the Missing Link', Ribadu, who lambasted past and present corrupt leaders, eulogized Justice Oputa for his steadfastness, honesty and integrity that is worthy of emulation by upcoming generations. 'Justice Oputa is a man of integrity. He is a man worthy of emulation by upcoming generations. In fact, I consider him as my father,' Ribadu says with excitement. Over 50 children from different schools in Abuja had witnessed the event in a symbolic manner of creating a lasting experience and memory in their minds.
The occasion also witnessed the launch of Justice Oputa Foundation (JOF) by the duo of Governor of Delta State, Emmanuel Uduaghan and Chief Emeka Anyaoku, former Secretary General, Commonwealth. The JOF is an initiative committed to raising the continental bar on the jurisprudence of good governance through its campaigns against poverty and, for social, democratic, human and environmental justice up to shoring up the dignity/humanity of African people making use of the instrumentality of assured food security system.
The foundation operates from the deep understanding that it is virtually impossible to address the malaise bestriding the continent without sound, people -oriented governance constructed on sustainable developmental modem. This modem demands essentially that the legitimacy of state should squarely rest on its capabilities to deliver core values in the provision of basic needs to the citizenry.