SONGS COME TO ME WHILE COOKING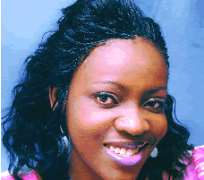 Idongesit
Unarguably, talents come and are displayed in different ways by individuals. However, it takes God's grace for one to detect his or her talent at the right time. While some detect their talents at the early stage, it takes others over 20 years to know what their talents are.
For upcoming Lagos-based gospel musician, Idongesit Daniels, popularly known as 'IYDEE', her talent made itself visible at the tender age of six, during her Sunday school days with The Apostolic Church at Olodi- Apapa, Lagos.
Interestingly, IYDEE, who hails from Ibesi Ikpo, Asutan Ekpe in Uyo Local Government Area of Akwa Ibom State, later joined the church main choir, as the youngest and participated in a singing competition organised at the church district. Unknown to her, she was adjudged as the best singer of the competition. But, while these were on, Ibesi's scriptwriting and song instincts had not grown, as she never thought of having an album.
However, she was encouraged when she watched her new church, Sure Word Assembly's pastor and his wife sang and danced.
'When I watched the pastor of my new church and his wife sang and danced very well, I became encouraged and took the bold step,' she said.
It was from then IYDEE started to write her songs through inspiration. 'I like cooking. I cook all kinds of food. I cannot cook without singing. And I got some of my songs while cooking. As I sing, I write the songs down. From there, I have two songs, Perfect Race and His Will, IYDEE stated.
The songs were composed when she moved down to stay with her sister in Surulere, Lagos. To the young musician, she was not treated in a fair manner there, but that later turned to be a turnaround for her. 'There was a time I went to stay with my elder sister at Surulere. While I was watching a movie, my sister and her husband stopped me because they wanted to watch a football match, which did not interest me. So, I became annoyed and went inside my room to cry. And, as I was crying, what came out of my mouth was 'let your will be done'. That was how the track, Let Your Will Be Done, came up in 2009,' she explained.
Currently, IYDEE is putting finishing touches to her latest album, which parades hits like My Song, Easy Life,Only You, Amanam, Nsidima, Illumination and Sweet Mama.
IYDEE enjoys singing to the extent that she forgets hunger when singing. And her style of music is no doubt, unique, as it has a tendency of carrying everyone along. Also, her messages touch lives.