Lover engages Stephanie Okereke @ surprise birthday bash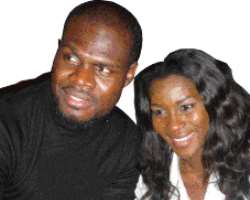 A-List actress, Stephanie Okereke was all tears and couldn't believe her eyes over the weekend, when Linus Idahosa, the handsome hunk rocking her world, proposed to her in the presence of some of their pals and colleagues.
Idahosa, the head honcho of Delyork International, pulled a fast one on the delectable thespian at the posh Club 10, on the Island, owned by Jay Jay Okocha, where he dazzled her beau with a surprise birthday bash. While Miss Okereke, who flew in from Abuja that evening was still smarting from the shock of the classy bash that completely took her unaware, Mr. Idahosa struck again.
Mid way into the turbo-charged groove, Mr. Romeo walked up to his Juliet, knelt on his two knees and brought out a diamond encrusted ring from his pocket, put it on Okereke's finger, with the words, "please, marry me and be the mother of my children. I love you."
Speechless and with tears in her sexy eyes, the delectable actress wholeheartedly accepted to be the future Mrs. Idahosa, in the presence of all that memorable and special night. With that romantic ritual, which all present thought happened in a Nollywood movie over, the party that had victuals flowing in all directions of the expansive VIP section continued till the wee hours of the following morning.
Meanwhile, to further spice the bash, the urbane governor of Bayelsa State, Timipre Sylva, was also in the house. As the unofficial special guest of honour, the six-footer, who mixed freely with guests at the soiree, thoroughly enjoyed himself before zooming off with his moderate entourage. Also, at Club 10 that night was the scion of the Mike Adenuga dynasty, Paddy, he sauntered in with a petite damsel.
They both soaked themselves in unlimited fun at another VIP section of the upscale hangout. Just like Sylva, Paddy had a tough looking security operative jealously guarding him through out the period he relaxed with his heart throb in the club. Speaking on the surprise bash and the unexpected engagement, cerebral Okereke, who recently partnered USAID to fight the spread of Fisula, said her man pulled a double surprise on her in one night. "First, I was lured into a surprise birthday party from Abuja.
And while relaxing and enjoying that, the same man pulled another surprise one on me by engaging me. All happened in one memorable night of fun and bliss, initially, I thought I was dreaming but later realized they were real and not make believe. I feel so happy, loved and blessed. I'm also thankful to all those that came. I will definitely keep you all posted on the wedding plans and date," she gushed, while holding tight to her man.