N20BN BOND: EBONYI PROFESSIONALS BACKS ELECHI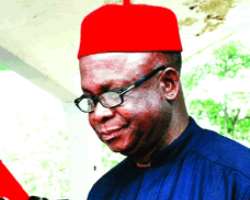 Elechi
An association of Ebonyi State professionals resident in Abuja, The Ebonyi Professionals, has thrown its weight behind the bid by the state government to raise N20 billion bond from the capital market. The co-convener of the group, Mr. Magnus Eze, said their support for the bond was informed by the ambitious plan of the government to develop the state in spite of its weak financial base.
He told Daily Sun in an interview that the bond seemed the only way the massive projects initiated by the Governor Martins Elechi- led administration in the state could be completed in the near future.
Eze said if the government did not have alternative source of funding these projects, they would end up as abandoned projects and what ever the government had invested in the project would have gone down the drain.
While urging every citizen of the state to support the bond, he expressed hope that the bond would be judiciously used for its original purpose given the level of prudence and fiscal discipline the State Government had exhibited.
Eze said 'The Ebonyi Professionals in Abuja are convinced that the multiplier effect of the bond in terms of benefits far outweighs the pains. If these massive infrastructural projects are completed in good time; the road network crisscrossing the state, the 33 unity bridges, rice processing factory, international market, five-star hotel etc; Ebonyi people will begin to enjoy their benefits. The evacuation of agricultural produce will be easier; there will be more jobs and more wealth will be created.
'Our support for the planned bond issue is very understandable. We are not unaware of the weak financial base of Ebonyi but the government of Chief Elechi appears ambitious. May be because of the urge to catch-up; the government has embarked on too many developmental projects, including roads, bridges and water schemes across the state.' He dismissed speculations that the government was trying to access the bond now for the purposes of prosecuting the election in the state by the ruling government.
Eze, who is also the Executive Director, Media Development Centre, Abuja, said the view of his group was that the government's economic management team must have done their homework before coming up with the idea of accessing fund from the capital market. Besides, he said, Elechi remained the governor of Ebonyi State till May 29, 2011and can take decisions and actions he considers to be in the best interest of the state even on the morning of May 29 next year.